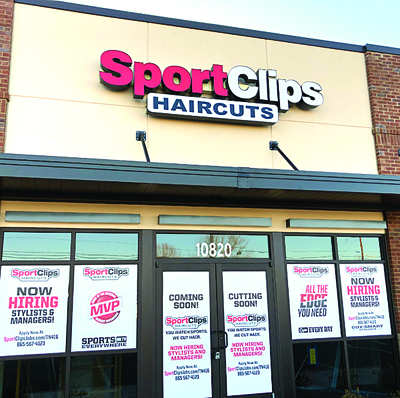 Sport Clips Haircuts, described in a press release as the nation's largest franchise dedicated to men's and boys' hair care, will open its Hardin Valley location, 10820 Hardin Valley Road, Tuesday, Feb. 19.

"With the support of Sport Clips' real estate team and technology, we identified this location and believe it will be a perfect fit," said Michael Alsobrooks, owner of the new Sport Clips.

The new Sport Clips will offer the "MVP Experience," which features the following: a precision haircut, massaging shampoo, hot-steamed towel treatment and neck-and-shoulder massage, stylists who specialize in hair care for men and boys and to stay up-to-date on trends.

Also featured are large, flat-screen televisions playing sports programming at each haircut station and in the lobby, along with reading materials, affordable luxuries to include special lighting and massaging chairs in the shampoo area, services without an appointment — walk-ins welcome and online check-in available at www.sportclips.com/checkin or download the app for iPhone/Android.

Hours are from 9 a.m. to 8 p.m., Monday through Friday; from 9 a.m. to 6 p.m., Saturday; and from 11 a.m. to 6 p.m., Sunday.

For more information, visit www.sportclips.com/tn416.