On Small Varsity Jazz repeat, 'I can't believe it'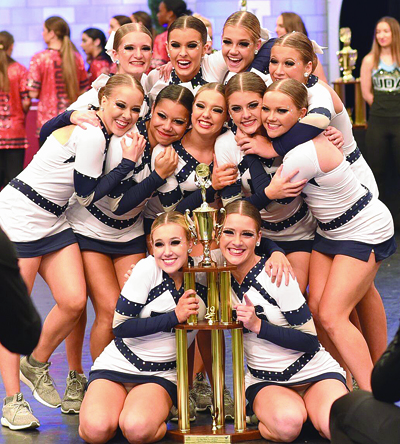 National champion Farragut High School dance team members are, in no order, senior co-captain Shelby Elam, senior captain Brooke Thayer, Chloe McCord, Jaysa Hough, Hannah Kochanski, Brenna Bocik (junior co-captain) Bridget Gibson, Ella Kate Puterbaugh, Sydney Elam, McLain Patterson and Kelsee Hartman.

Farragut High School's Dance Team sashayed to an unprecedented second-in-a-row National Dance Championship in Small Varsity Jazz Sunday, Feb. 3, in Orlando, Florida — tops among 87 teams from across the country.

"I can't believe it," said long-time head coach Adonia Adams. "At first I thought, 'Are you kidding me?'''

Senior team captain Brooke Thayer was equally incredulous.

"I was on the ground," Thayer said. "I was beating on the ground.

"In that moment, I was just so happy I didn't even know what to do," she added. "It is a feeling you can't describe."

The win capped a three-day nerve-wracking process, beginning with prelims Friday, Feb. 1, which the team aced with first-place wins in both pom and jazz, catapulting them to the finals (finishing second in pom).

"That didn't happen last year," Adams said. "We had to go through the prelims and the semi-finals before earning spots in the finals."

"The finals were really exciting," senior co-captain Shelby Elam said Sunday, Feb. 3. "We had high expectations, but we knew it would be harder to win."

While Thayer, Elam and junior co-captain Brenna Bocik were among the returners to the 11-member squad, "we had six new people this year," Elam said. That included four freshman.

Even though most of the girls had danced together as part of the Farragut Middle School team and under Adams' coaching (she coached both teams until stepping back from middle school duties this year), they had not been together at the same time.

"Typically, it takes time to build back up," Adams said.

However, "We decided early on that we could more than rise to the challenge, and let people know we were even better this year."

"... From the very beginning, the fact that we had won last year was a strong motivator," Bocik said.

That mindset quickly was realized, as the team won top honors at its annual Summer Camp right off the bat, and went on to achieve double first-place wins at the state level in both Jazz and Small Pom earlier this year. While it was the team's fourth year in a row for Pom, it was the first for the double state title since 2015.

"That summer camp win was highly competitive — it sparked off the year and gave them confidence in the year ahead," said Adams, who credited her three captains with "stepping up and leading the team."

Thayer signed a Nation Letter of Intent Wednesday, Feb. 6, with The Ohio State University and its national champion dance team.

"It is the first time in history that anything like that had ever happened," Adams said. (See signing photo in Sports, page 9C).

Also assisting the national title repeat effort were Jazz choreographer Cristin Lewis and team sponsor Tracy Moore.