Cox, Birdwell open Salon Lavish along Parkside Drive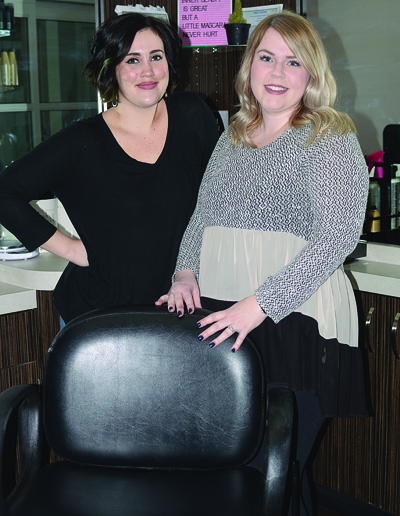 Long-time stylists Leah Cox, left, and Ashton Birdwell teamed up in January to open Salon Lavish in Sola Salon Studios, 11324 Parkside Drive.

Leah Cox and Ashton Birdwell have combined their styling experience and opened Salon Lavish in Sola Salon Studios at 11324 Parkside Drive.

"It's a great location," said Cox, a New York native living in Oak Ridge.

"Turkey Creek is wonderful," added Birdwell, who grew up in the Farragut and Karns communities.

Salon Lavish offers cuts, color, facial waxing — "anything that has to do with hair," said Birdwell, who also provides keratin hair smoothing treatments. "Just a full-service hair salon" for men, women and children.

Their years of experience sets them apart from other salons, they said.

"I think I've been doing hair for 10 years and (Cox) has been doing hair for nine years," Birdwell said.

Cox and Birdwell worked together at Salon Biyoshi for several years.

"We were probably there together seven years," Birdwell said.

They later worked together at another salon for four years, but after working for someone else they decided to take the plunge.

"We like people, and we just wanted to be truly on our own," Birdwell added. "So we got to brainstorming and decided to do something like this."

Birdwell and Cox then opened their salon Jan. 21 in Sola Salon Studios.

Along with their experience, Birdwell said they are both very friendly, and "I think we both do a really good job and make our guests really comfortable."

Cox said operating out of a salon studio, such as Sola, allows her and Birdwell to experience, "how you are on your own, but you are not completely by yourself."

Salon Lavish is open by appointment from 9 a.m. to 9 p.m., every day except Sunday, with Cox and Birdwell alternating days they come into the salon. While Birdwell works Mondays, Wednesdays and Fridays, Cox works Tuesdays, Thursdays and Saturdays.

To book an appointment, clients may call or text Birdwell at 865-680-8340 or Cox at 607-592-9544.