Town features 56 entries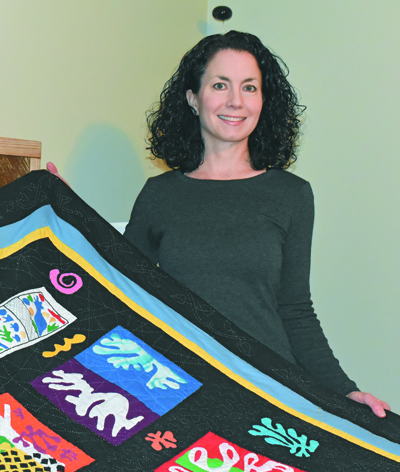 Farragut resident Lisa Tate shows the quilt her mother handmade based on the work of French artist Henri Matisse. It is just one of 56 that will be displayed this weekend.

Nothing says family quite like heirlooms passed down from generation to generation, and several Farragut residents are sharing their precious treasures with the community this weekend at the Town's inaugural "Beautiful World — One Quilt at a Time" quilt show.

Among the 56 entries are four from former Town of Farragut Alderman Jeff Dobson and his brothers, Jerry and Ken, whose mother and grandmother were prolific quilt makers, and one from Farragut resident Lisa Tate, whose mother was a master of many handmade craft forms.

Winnowing down the choices was a hard task for the Dobsons, because the families have more than 30 complete quilts from the many completed by their mother, Margaret Dobson, and grandmother, Mamie Cleo Cagle Tippens, also known as "Mama."

The brothers and their wives displayed many of the completed pieces in Jeff and Dana Dobson's Montgomery Cove home late last month. They range from simple patterns to those of increasing complexity using a seemingly endless supply of fabrics.

"They saved everything and used everything," Jeff Dobson said of the materials, which included coat and jacket scraps, children and adult clothing, curtains, seed sacks and some "strange pieces of fabric" of unknown origin.

He described one unusual "heavy wool quilt from obviously hard, cold times … made from discarded old overcoats."

Tate's late mother, Phyliss Sink, who lived in Cleveland, was prolific as well, although she did it all on her own. She not only sewed a variety of quilts, but she also made other types of crocheted afghans and blankets, figurines, dolls, teddy bears and clothes — all despite crippling arthritis.

While Tate had submitted two quilts for the Show's consideration, the one selected is an unusual piece made up entirely of appliqued squares based on the art of French artist Henri Matisse. "I requested it," Tate said of the project. "Matisse's art is among my favorites — especially his (cut paper collage)."

The Matisse quilt was just one example of Sink's generosity.

"Most of what she made, she gave away," said her daughter.

That inexhaustible generosity was put on full display after her mother died, as Tate asked for her friends and loved ones to bring the items Sink had made in memorial.

Quilt racks laden with blankets lined the room, as did tables filled with handmade Raggedy Ann and Cabbage patch dolls, Christmas ornaments, painted rocks and innumerable other gifts of time and love.

"I know she would have been proud it was all on display," Tate said.