Farragut dancers prepare for 'Joan of Arc' ballet in Bijou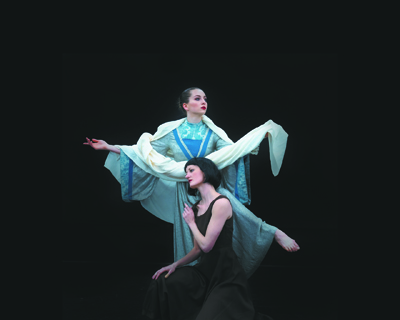 Harper Addison as Joan of Arc, in front, with Micah McKee, who will dance the role of the Madonna in Fouquet's painting "Virgin and Child" as it comes to life in "Jehanne ... the Story of Joan of Arc."

Dubbed in a press release as "a one-of-a kind ballet," which will "capture the intensity, conflict and resolve of this medieval teenager," "Jehanne ... the Story of Joan of Arc" features several prominent roles performed by young dancers from Farragut.

GO! Contemporary Dance Works, 1234 Rocky Hill Road in Knoxville, will conclude its 14th season with this full-length contemporary ballet, with Joan as "both maiden and warrior during a time of spiritual and political upheaval," Saturday and Sunday, Feb. 23-24, in Bijou Theatre along Gay Street in downtown Knoxville.

While the lead role of Joan is performed by Harper Addison, a professional dancer, nine dancers from Farragut are highlighted by feature roles from Kara Good, a senior at Farragut High School, and Micah McKee, a senior at Paideia Academy.

McKee will dance the role of the Madonna in Fouquet's painting "Virgin and Child" as it comes to life, and perform silks aerial work as a saint in Joan's vision.

"The painting is around the time of Joan, of (the Virgin) Mary holding her child, Jesus, with angels surrounding him," McKee said. "People often compare Joan to Mary because both of them were women called by God to fulfill His purpose."

Before taking on her role, "I barely knew anything about Joan of Arc," McKee said. "Now I see how truly amazing Joan was in following God's purpose, even to the point of persecution."

Good's main role will be Queen Yolande, an early and vital supporter of Joan.

"Both Kara and Micah are seasoned performers with exceptional technical and artistic qualities," said Lisa Hall McKee, GO! artistic director and Micah's mother. "They both have featured roles in the ballet and contribute significantly to the choreographic process.

"It is a collaborative effort between choreographer and dancer in the studio to artistically produce and both have excelled in that challenge," she added. "It is a difficult skill to master, to know how you as dancer can contribute to the artistic output of the choreographer."

"Jehanne" will be both Good's and Micah McKee's last performance with GO! They will be heading off to university dance programs in the fall.

Micah McKee, attendee of summer programs including San Francisco Conservatory and Joffrey and Bates Dance Festival in Maine, will be majoring in dance at George Mason University. She also received the Mason Distinction Scholarship and has been accepted into Mason's Honors program.

"I was born into the studio, literally. I have known nothing else for 17 years," Micah said. "I want to leave a legacy at GO! with what we've done, and I'm so grateful to have contributed to something greater than myself for all these years."

Good, who has attended the prestigious summer program Lines in San Francisco, will be majoring in dance at the University of South Carolina, for which she received a departmental merit scholarship.

"Both dance programs are extremely competitive, with Mason accepting only 20 freshman annually," Hall McKee said. "Their extensive experience in productions such as 'Jehanne' have prepared them both technically, mentally and artistically for the challenges and rigors ahead of them."

Anna Cales, Lydia Capps, Tempe Coker, Olivia Coker, Anna Beth Lee, Jaynie Stowe and Megan Metzelder round out the Farragut dancers.

Showtimes are 2 and 7:30 p.m., Saturday, Feb. 23, and 3 p.m., Sunday, Feb. 24. Ticket prices range from $17 to $27.

Tickets may be purchased by calling 865-539-2475 or by visiting gocontemporarydance.com/.