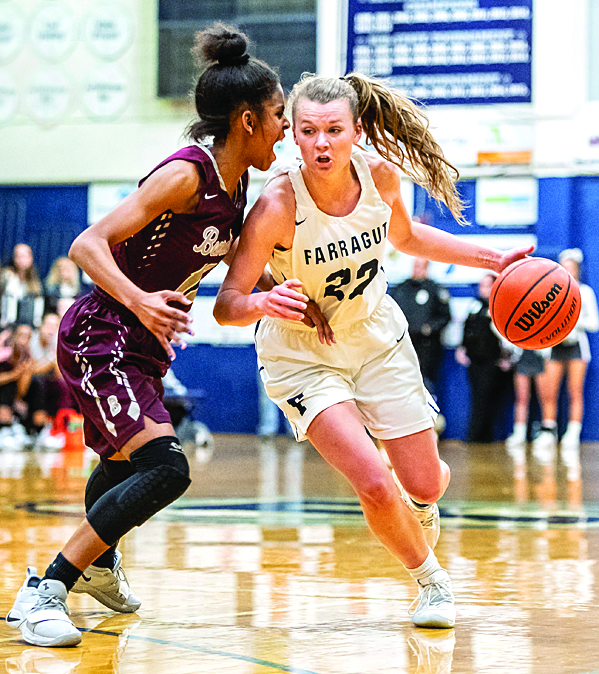 Morgan Carbaugh, Farragut senior guard, drives to the basket against heavy pressure from a Bearden defender. The Lady Bulldogs earned a share of the District 4-AAA league title with a 62-53 win Monday, Feb. 11, in FHS's Lynn E Sexton Gymnasium.

Bearden High School's girls basketball team clinched a District 4-AAA regular-season co-championship with a road win over rival Farragut Monday night, Feb. 11.

"You just had two great teams out there tonight," Justin Underwood, Bearden head coach, said after his squad notched a 62-53 victory over the Lady Admirals in FHS's Lynn E. Sexton Gymnasium.

The Lady Dawgs improved to 25-2 overall, 14-2 in District 4-AAA.

Earning the No. 4 seed for the upcoming 4-AAA tourney at William Blount, the Lady Admirals (23-6, 12-4) play starting at 4:30 p.m., Friday, Feb. 15, against the survivor of the No. 5 versus No. 8 seed game.

Farragut's boys, No. 5 seed, start tourney play at 6 p.m., tonight, Thursday, Feb. 14, versus the Lenoir City-Heritage winner (No. 8 or No. 9).

The Lady Ads started fast against BHS, opening an early 17-8 lead.

But Bearden outscored Farragut 17-9 in the second stanza to take a 27-26 lead by halftime. The Lady Bulldogs' defense forced FHS turnovers that turned into points and led 42-38 after three quarters.

"We knew that we were going to have to play defense in the second half," said senior point guard Shekinah McLaughlin, who scored 10 points for BHS.

Sophomore Zneyah McLaughlin led Bearden with 16 points and Tytiaira Spikes, another senior, scored 12 points. Jakhyia Davis had nine and Annaka Hall finished with eight, all in the second half.

Farragut senior guard Morgan Carbaugh had 18 points to lead all scorers. "This doesn't feel good," she said.

"This is a game of runs and they had the last big run, and at the end of the day they were just tougher than we were," Carbaugh added.

Senior Sydney Chapman scored 11 points for the Lady Admirals. Claire Wyatt and Macy Barnes each scored seven points.