After years of frustration versus Webb, Lady Warriors claim region crown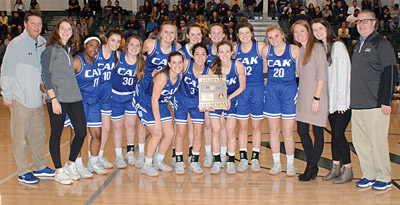 Christian Academy of Knoxville poses with its Division II-A East Region tourney championship trophy after some post-game hugs, having knocked off Webb School of Knoxville in two overtimes 58-55 in Webb's Lee Athletic Center Saturday, Feb. 16.

KNOXVILLE — No longer intimidated by Webb School of Knoxville green, Christian Academy of Knoxville's girls marched into the Lady Spartans home, Lee Athletic Center, and took charge of this Division II-A East Region Tournament championship game Saturday evening, Feb. 16.

Although Webb rallied late to force overtime, the Lady Warriors re-established control in the second overtime and claimed the crown 58-55.

"We knew if we could get them maybe one time in the regular season (an 8-point win at CAK Jan 25), we'd get that chip off our shoulders," said CAK head coach Abby Williams, whose team improved to 24-5. "Our seniors, for five years they had never been able to beat Webb" going back to eighth grade.

"For us to get that first one was big, so it gave us that opportunity to believe we could finish the game here tonight," she added.

"A real important thing for us was to keep our composure and to execute what our coaches put in," said Claire Brock, CAK senior point guard and tourney MVP who finished with 11 points. "They had a excellent game-plan."

"We really just came to play. We played really hard on the defensive end, and we got rebounds," said Kennedy Smith, Lady Warriors senior post and All-tourney honoree who scored a team-high 16 points. "This is huge for us and our team."

"I think our coaching staff was great, they drew up great plays," said CAK senior guard Ellie Fussell, also an All-Tournament selection who scored 12 points. "I think all of us were just willing to put in the work and get all the loose balls and the rebounds. We worked well as a team and pulled through tonight."

"We just didn't have it tonight .... We didn't attack the (2-3) zone, we didn't move the ball in our offensive scheme. We were tentative," Shelley Collier, Webb head coach, said. "They were waiting on Casey (Collier, senior star point guard) to make a play."

Tipping her hat to the Lady Warriors, "They had some players who stepped up and hit some shots," added Collier, whose Lady Spartans fell to 18-14.

Casey Collier, an All-tourney selection, led all scorers with 23 points, followed by Catherine Hendershott, sophomore post, with 18 before fouling out in overtime.