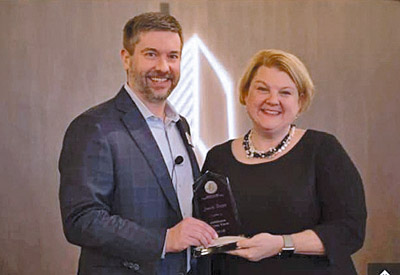 Farragut resident Janette Burgin received the Affiliate of the Year Award from Knoxville Association of Realtors during the group's annual Awards Presentation.

Farragut resident Janette Burgin was rewarded for her hard work on behalf of the real estate community, receiving the prestigious Affiliate of the Year Award from Knoxville Area Association of Realtors during the group's annual Commercial and Residential Real Estate Awards Presentation Tuesday, Feb. 12.

Burgin, who is mortgage loan originator, Knoxville production manager and vice president at Regions Mortgage's Major Reynolds office, won out against several award finalists who had been nominated by a committee, then voted on by select board members.

"That award recognizes an affiliate member who has made significant contributions to the KAAR," Lyle Irish, KAAR CEO, said. "In addition to her checking all the boxes in numerous areas, she is also a past president of the KAAR Affiliate Council and a regular major investor in the national Realtor Political Action Committee."

"It is a very high honor. I was flabbergasted," Burgin said.

She had previously won the same award from Women's Council of Realtors.

Burgin said she has been with Regions Mortgage for more than a decade, managing a small team in the Major Reynolds office.

"I do residential loaning in 25 states, and specialize in medical, physician and new construction loans," she said. "I am just honored to be able to provide services for the Knoxville area realtors, and recognize the responsibility we have to our community."

Burgin has been in the mortgage lending business since 2000

She is very active in the Care Cuts Knoxville monthly community outreach for the homeless, and also was a finalist for 2019 KAAR Good Neighbor Award.

One of her biggest supporters is husband, Brian Tankersley.

Event was sponsored by VIP magazine.