The Villages' projected opening is late spring/early summer: Keckley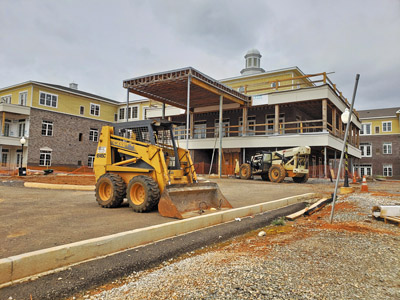 Though slowed by weather, construction on phase 1 of The Villages of Farragut continues.

With a projected opening date of late spring/early summer, progress is going well on the first phase of construction on The Villages of Farragut Senior Living Community, according to Mark Keckley, CEO/director of development with GoodWorks Unlimited LLC., which is developing the project.

Keckley said the project has developed "tons" of interest from the public.

Construction started on The Villages of Farragut, being built at 230 Village Commons Blvd., which overlook Smith Road and Kingston Pike behind farragutpress, in spring of 2017.

"I'm impressed (with the design)," Rebecca Phillips, safety director with Merit Construction Inc., said, adding she observed how immaculate the spaces were in the building.

"I think they are going to be a good fit for this area."

Although Keckley initially announced a completion date as the end of 2018 during a Farragut Municipal Planning Commission meeting in January 2017, construction continues.

Keckley said Phase I was a big project involving a 103,000-square-foot building.

"Weather is always a factor," added Sherry Coss, GoodWorks Unlimited communications manager.

Along with a wet winter this season, the construction crew also dealt with last year's rain.

"We just had the wettest February (2018) in the history of Farragut," Keckley said during an interview in April 2018.

The first phase, located on 10 acres of the 23-acre property, will house 88 independent living apartments for seniors that include alcove, one-bedroom and two-bedroom apartments with "sunroom options, along with an elegant décor," she said.

Coss added there still are one-bedroom and two-bedroom units available. While she did not reveal prices of the units, she said they "vary upon the size of the apartment."

For details, Coss can be contacted at 865-671-2500 or online at goodworksunlimited.com.

Keckley said a one bedroom unit would be about 377 square feet, while each of the two-bedroom units are more than 1,300 square feet.

However, Coss added, "There are a variety of square

footage options available with features varying upon the size of the apartment."

These features could include units with sunrooms, screened porches, granite countertops, walk-in closets and kitchenettes — and some rooms do have decks, Coss added.

Amenities included in the resident's price include meals, housekeeping and personal laundry assistance. She said they also include use of a chapel, crafts and art room, wellness and educational programs, community room for events, putting green, outdoor bocce court, walking trail, card room, billiard parlor, beauty and barber shop, bar, dog park and — for an additional cost — "assigned parking." 

There also is an option of personal assistance through a third party, Keckley said.

"I can assure you every effort will be made to accommodate our residents, and their safety is a priority," Coss said.

Regarding meals, "We encourage all residents to join the folks at meal times for fellowship," she said.

However, for those seeking room service, "We realize that certain circumstances will occur and every effort will be made to accommodate our residents."

There are accommodations for couples to live together; and while most apartments are unfurnished, Coss said furnishings could be provided.