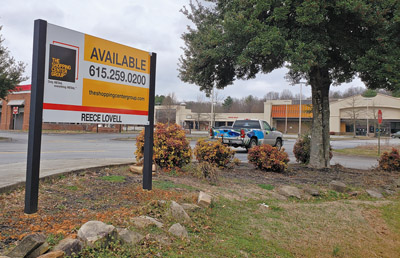 The real estate sign in front of the old Ingles building.

Farragut leaders said they are "excited" about the progress made on the cleanup of the former Ingles Market building at 11847 Kingston Pike.

A "for lease" sign near the entrance now fronts the building, and tiles have been removed from the roof.

"I'm very pleased," Mayor Ron Williams said following the Farragut Board of Mayor and Alderman meeting Thursday, Feb. 14. "I wish them well with that endeavor."

"We've got a lot of exciting things going on right now," Vice Mayor Louise Povlin said.

While Povlin said she has not had a chance to look at the building, she "likes the big 'for lease' sign in front.

"That was very encouraging," she added. "That was my favorite part of this.

"I'll be more comfortable with the situation when we see the parking lot full," Alderman Scott Meyer said.

"I'm ecstatic," Farragut Alderman Ron Pinchok said. "We're excited they are moving forward with the clean-up."

"I'm encouraged with the clean-up," Alderman Drew Burnette said. "You can tell they've taken some action on the exterior and have taken down some of the roof tiles that were falling.

"They've got, what it seems, a local real estate agent sign up," he added. "I think they are all positive steps forward."

"They are starting to work on the façade," Pinchok said. "I don't know what needs to be done inside."

Williams said the property owners were expected to address safety concerns regarding the building's exterior and secure the structure. He added he felt they were going in the right direction.

"I trust that our staff is keeping an eye on it and making sure they are holding their feet to the fire," Povlin said. "This has gone on way too long."

"We had asked them to bring the building up to code, and they are moving forward with those changes," Pinchok said. "They met with (Farragut Community Development director) Mark Shipley, and he gave them certain things they had to do."

"Hopefully, they're moving forward," Shipley said. "We're glad they're starting to make improvements to the building.

"They've addressed the immediate issues, and they're planning to renovate," he added. "We expect to receive design plans (soon). It's going to take awhile for them to get everything done."

Agreeing, Williams added, "It's going to take a little bit longer to figure out what they're going to do on the inside.

"There is damage on the inside, (so) everything will have to be brought up to code," he added.

"We have seen a picture of (the plans), but it requires a lot of other paperwork to go with it."

The plans then will have to be approved by Farragut Municipal Planning Commission.

"We've got sign ordinances and architectural design standards," Williams said. "All of this goes before the Planning Commission, and the signs will go before (the Town's Visual Resources Review Board).

"It's not going something that's going to happen overnight," he added.

Williams thinks it might be on the March agenda for the Staff Developer meeting and/or FMPC agendas.

"Once it's up to code, hopefully we can get some people to rent some of that space," Pinchok said. "It's our goal to get it rented, occupied and used."

Pointing out the "for lease sign," on the property, Williams said, the "plan is to fix it up and lease it.

"You've got 13 to 15 potential businesses that could be located there," he added.

"I've had two businesses — one a restaurant and another local business — that have shown interest to me. They are keeping an eye on that space and seeing what kind of upgrades they do to that space for possibly moving their businesses there," Burnette said. "I think there's a long way to go, but it looks like they're taking the right steps to getting that piece of property in order and up and rentable again.

"I think there are so many great options, for restaurants to possibly specialty food markets, that would be such a great fit for the Farragut area," he added.

"I think our opportunities are endless, really, with such prime real estate."

"My expectation is I would like to see that building being used again or a new one in its place," Povlin said. "Either way, I'd like to see that area being used.

"It's really has a lot of potential," she added. "With the (community and) senior center coming in, and Ingles is a nice grocery store, that area just needs something there."

In addition to the Ingles property, Povlin noted the lease is coming up on the (old) Kroger building, so she is hoping for some energy with that building as well.

She also pointed out the Starbucks building that opened at the corner of Kingston Pike and South Campbell Station Road, and "Campbell Station Inn is finally getting to a point where we might see (fruition).

"I can't wait until the (plaza) comes in. When that gets done it's going to look great," she added.