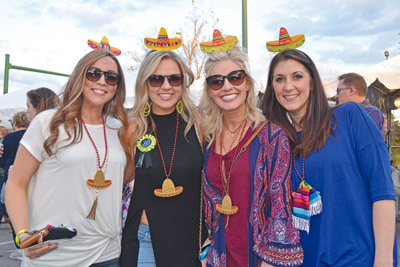 From left, Lindsey Reed, Casey Anderson, Brittani Clements and Audrey Faso enjoyed last year's Southern Tequila and Taco Festival. This spring, Farragut again will provide the venue for the fifth annual event slated for Friday, April 26.

Spring will come alive in Farragut as the Town sets the scene for upcoming events.

"We have an exciting end of April and into May," Farragut Vice Mayor Louise Povlin said. "There's a lot going on in Farragut that's exciting."

Tequila and taco lovers can gather again this year for the annual Southern Tequila and Taco Festival, benefiting Remote Area Medical, while The Pinnacle at Turkey Creek treats Farragut pets to Fido Fest, which benefits Young-Williams Animal Center.

Farragut Beer Board approved special occasion permits for both of those events when it met, prior to the Farragut Board of Mayor and Aldermen meeting, Thursday, Feb. 14.

Organized by Abuelo's general manager John Volpe, this is the fifth year for the Southern Tequila and Taco Festival, scheduled from 5 to 9 p.m., Friday, April 26, in the former At Home parking lot, 11221 Outlet Drive.

"I think the first year, it was called the Taco and Tequila event," RAM chief financial officer Don Mackay said, noting the event has grown each year.

"We expect it to be a little bigger this year," he said. While last year's event drew 15 taco vendors, Mackay noted, "I think we're going to have a few more than that this year.

"Of course we have the (tequila) distributors who come out and other vendors set up as well," he added. "We're looking forward to it.

"I think we had roughly 2,000 (attendees) last year," adding he expects a few more this year.

"We're glad to have you in Farragut, and we're glad you've come back," Alderman and Beer Board Chair Ron Pinchok said.

The Pinnacle at Turkey Creek is offering Fido Fest, an event for pet owners, from 11 a.m. to 3 p.m., Saturday, May 11, at 11403 Parkside Drive in Turkey Creek.

"This is our third year for the event," said Darryl Whitehead, general manager of Bayer Properties, which manages Pinnacle. "The last two years it was at our Phase I, which is on the Knoxville side."

However, he said this year Fido Fest is moving to the Farragut side to take advantage of the parking lot, as well as "integrate people who have dogs and like to go for walks and tie them into the greenway.

"(Fido Fest) becomes a great family event," Whitehead added. "Young-Williams (representatives) have a great time there, and along with sponsors, it turns out to be an interesting event.

"Last year we had about 2,000 people there, not including dogs and other four-legged animals. It was a great time for everyone."

Along with activities for the dogs, there are activities, food and beverages for children and adults, Whitehead added.

Additionally, food and wine lovers are setting their sights for Farragut Food & Wine Festival slated from 6:30 to 9:30 p.m. Friday, May 3, at the former Kroger parking lot, 11240 Kingston Pike, across from Farragut High School.

In other business, Farragut Board of Mayor and Aldermen approved unanimously:

• the second reading of an ordinance to increase appropriated expenditures in its Capital Investment Program from $10,717,700 to $10,753,700 — an increase of $36,000 — for road improvements on Watt Road and Kingston Pike. Likewise, the Board increased State Street Aid Fund expenditures from $500,000 to 1,354,624 — an increase of 854,624, for resurfacing of roads in Town.