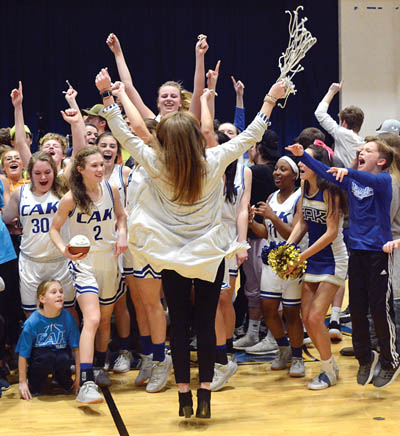 With cut-down net in hand, CAK head coach Abby Williams leads an emotional post-game celebration, which included a huge student fan contingent and cheerleaders.

KNOXVILLE — Admitting she wears her emotions on her sleeve, Abby Williams led a highly-charged post-game celebration — the cut-down net swinging from her right hand — for her Christian Academy of Knoxville Lady Warriors.

Her basketball girls (25-5) had just earned the program's first trip to the state tournament in several years, edging University School of Jackson (26-6) 62-59 in overtime — helped by a large and loud student cheering section — Friday evening, Feb. 22, at CAK.

For all the post-game emotion, however, "It was composure" that made the difference late in the game, said Williams, first year Lady Warriors head coach, whose team's next stop is Lipscomb University in Nashville for the "Final Four" Division II-A state tournament this weekend.

"We've talked about it down the stretch in the post-season, that we have to be composed game-in and game-out."

The semifinal opponent is Northpoint Christian (26-7), with opening tip-off set for 3:15 p.m., CST, 4:15 p.m., EST, Friday, March 1. The winner faces either Providence Christian Academy (20-7) or Harding Academy (28-2) in the state title game, which is set to begin at 4:30 p.m., CST, 5:30 p.m., EST, Saturday, March 2.

Christian Academy overcame a 32-24 halftime deficit as led by senior point guard Claire Brock, whose game-high 31 points included going 9-of-9 at the foul line. "I think the main key was every single person on the floor contributed tonight," Brock said.

Ellie Fussell, senior guard, added 14 points for CAK. "We never gave up, and our coaches know how to motivate us," she said.

Kennedy Smith, senior wing, hit a pair of clutch three-pointers and scored eight. "I think the big thing was we just kept our composure the whole way," she said.