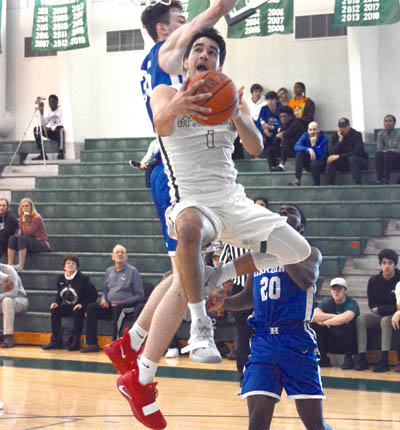 Uriah Powers, Webb junior post/wing, goes up over Harding Academy big man Luke Howard for a reverse lay-up during this Division II-A substate showdown in Webb's Lee Athletics Center Sunday afternoon, Feb. 24. The Spartans held off a late Lions comeback for a 57-55 victory, sending them to the Division II-A "Final Four" state tourney versus Christ Presbyterian Academy in the semifinals Friday, March 1, at Lipscomb University in Nashville.

KNOXVILLE — Holding a 52-42 lead with just three minutes to play, Webb School of Knoxville almost had its Division II-A state championship dreams derailed thanks to poor free throw shooting in the clutch.

Hitting just three of its last eight free throw attempts, the Spartans (28-6) saw Harding Academy (25-7) get a shot to tie or win the game in the closing seconds.

But a power lay-up attempt from 6-foot-9 Lions post Luke Howard fell short, and the ball kicked out to a white jersey as time expired.

Webb held on to win this substate showdown 57-55 Sunday, Feb. 24, in Lee Athletics Center.

Next is the state tourney semifinal versus Christ Presbyterian Academy (26-10) at 1:30 p.m. CST, 2:30 p.m., EST, Friday, March 1, at Lipscomb University in Nashville.

"I'm really proud of our guys, the way we responded to their comeback," said Spartans junior guard Emory Lanier, who scored a team-high 13 points.

Junior guards Tariq Daughton and Luke Burnett each added 12 points. Junior post Uriah Powers scored 10 before fouling out.

Despite the near collapse, "I thought we were the tougher team, for the most part," Webb head coach Ricky Norris said.