Christ Covenant shows global scale in Missions Conference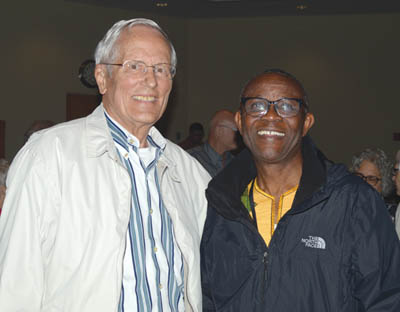 Missionary Fred Stoll, left, reunites with keynote speaker Tony Weedor at Christ Covenant PCA's Missions Conference banquet Friday, Feb. 22. Stoll knew Weedor when the Liberian-born Christian was first becoming an evangelist.

From Idaho to Africa, Jordan to Athens, Christ Covenant PCA members are showing their support for mission teams who are spreading the Word of God across the world.

A crowd of about 250 met with 15 of the 26 mission teams the church supports at Christ Covenant's Missions Conference 2019 in the church, 12905 Kingston Pike, Friday, Feb. 22, through Sunday, Feb. 25. The event started with a banquet, continued with a men's breakfast and ended with missionaries' visits to Sunday school classrooms.

"It's outstanding," said the Rev. Seth Hammond, CCPC senior pastor, regarding the turnout at Friday's banquet. "The best thing about these conferences is we get to hear from people around the world, and it inspires our congregation to not only pray for our missionaries but also it may stir in (church members') hearts to go and become missionaries."

Hammond said the conference also exposes the congregation to "what God is doing" on a global scale.

"This is awesome," said Mike Fleenor, who serves on the church's mission board. "This is my 22nd year of being there for it."

"Oh my gosh, it's wonderful," Christ Covenant member Cheryl Christensen said. "It's such a blessing to hear these people talk and share their experiences in the mission field."

Fleenor said the conference has three goals: to introduce the congregation to the missionaries the church supports, to uplift them spiritually and to provide financial support.

One pair of missionaries, Joel and Sarah McCall, talked to members about their experiences in Africa.

"My husband, Joel, trains pastors in Rwanda, Uganda and the border of the Congo as part of Equipping Leaders International," Sarah said.

"They are amazing people," Joel said about his pupils. "They don't have access to outside trainers (otherwise), so we take teaching teams to them.

Another team included Hank and Gloria Rader, chaplains at TA Truck Stop for Transport for Christ.

The Raders started 21 years ago ministering to truckers, Fleenor said.

The event's keynote speaker, Tony Weedor, was born in Liberia, and his call to convert Muslims started when he was 21.

"The Muslims are moving into Africa," he said, but added he is seeing the Christian faith coming to Africa as well.

"The missions are the heart of God," Weedor said, then challenged the congregation, "Where is your heart … are you willing to die for what you believe?

"If we pull together, Christ will be here," he added. "Start (evangelizing) from your Jerusalem here then plunge into it. It's never too late to go on a mission."

Weedor converted from Islam to Christianity through a missionary with the group "Serving in Mission." He later graduated from African Bible College and subsequently worked with SIM-Liberia as an evangelist.

One of the people who inspired him was missionary Fred Stoll, whom Weedor calls "Uncle Fred."

"He taught me a lot," Weedor said of Stoll. "Thank you for the investment."

Stoll recalled when he was a missionary in Nigeria during the 1970s, "one of the training seminars we had was about reaching Muslims and (Weedor) showed up.