'I can do this,' Lou L Tate recalled about 'God's calling' to start a school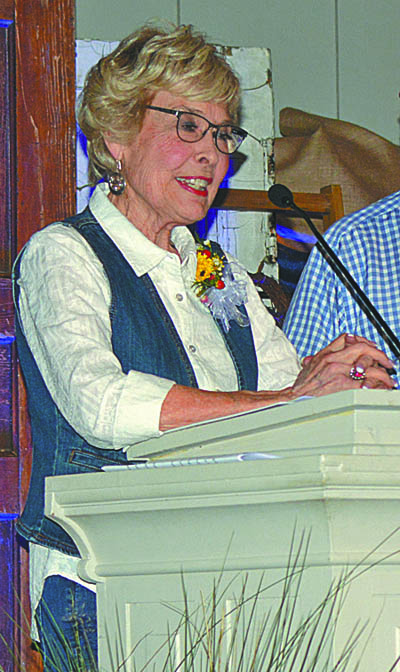 Lou L Tate, school founder, and husband, Joe Tate, received a minute-long standing ovation. She took pleasure in recalling the details of how Tate's School got started.

KNOXVILLE — Joe Tate's bugle call got a golden anniversary of events kicked off at Tate's School in Cedar Bluff, more than 50 years after his wife answered her "calling from God" to create a school — which has combined a Christian atmosphere with quality education — for children in West Knoxville.

A packed house in "The Barn" auditorium on campus — featuring former teachers, students and other avid school supporters in addition to students' parents, staff and faculty — celebrated "50 Years of Learning, Love & Laughter: Tate's Golden Anniversary Celebration" Saturday evening, March 9.

Rebecca Preston, a former technology instructor at Tate's for eight years (1998-2006), also was a parent of a Tate's student. "It is important to come back to the table with those who matter in our lives," Preston said about the kindergarten-through-eighth-grade school, (enrollment of about 220) on 54 acres along Bob Gray Road. Before introducing Lou L and Joe, she labeled them "an amazing couple."

The couple received a standing ovation of about one minute.

"I had just finished my two years in the Army, and we decided to head out to the promised land of Knoxville, Tennessee," Joe said about the couple's trek from Jonesboro, Arkansas, in 1966 so Joe could attend the University of Tennessee.

Educators in Knox County — Lou L in what was then Knoxville City Schools and Joe in Knox County Schools — before she retired to become a stay-at-home mom, Lou L said she realized when searching for a school for her daughters, "I couldn't find a place that I thought was good enough for my children.

"And then I thought … 'I can do this,'" Lou L added about creating a school for daughters, Paul Tate-Gunter, now the school's Director of Wellness; Jodi Tate Geschickter, the only female team owner in the NASCAR Monster Cup Series; and Tracey Tate Van Hook, executive director of Tate's School of Discovery Foundation and its director of Resource Development.

"So I tried to start a school."

Contacting the couple's church, Erin Presbyterian, "I asked them if I could rent three rooms, and they said 'yes,'" she said.

Admitting "I needed to have credit" upon purchasing supplies at Highland Products, "They told me I looked honest, so they loaned it," Lou L added.

"So in faith I went ahead and hired a couple of teachers, and we started marketing the school.

It was "stuffing mailboxes — back then you could do that," that was a key marketing method, Lou L said. "… We got in the car every afternoon after we got home from work and we'd drive around and put flyers in mailboxes.

"… First thing you know, we had children enrolled in our school," she added.

Featured guest was Leanne Morgan, nationally acclaimed comedian/commentator with West Knox County ties who kept the audience roaring with laughter with humorous personal stories.