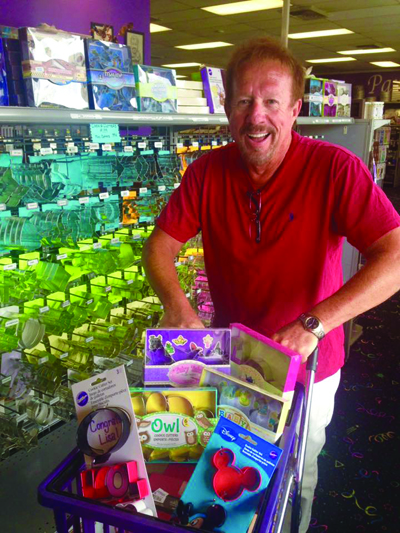 Sugarbaker's Supplies owner Larry Clark is overseeing his business' first cake event, the Grand Confectionery Art Show & Competition, which will be held Saturday, March 30, in The Grande Event Center, 5441 Clinton Highway. The event also commemorates Sugarbaker's 30th year in business.

A visit to "The Sweeter Side of Oz" will mark 30 years of business for Larry Clark, who owns Sugarbaker's Supplies.

The regionally-renowned company, 514 Merchant Drive, is hosting The Grande Confectionery Art Show & Competition from 11 a.m. to 5 p.m., Saturday, March 30, at The Grande Event Center, 5441 Clinton Highway adjacent to Knoxville Expo Center.

Using the "Oz" theme, cake bakers and decorators are only limited by their imaginations to create ornate confections in a variety of categories, including juvenile, amateur, professional and intermediate. The finished product will be evaluated by celebrity judges from the Food Network, along with a Sugarbakers vendor, Peter E. Ward Jr., of Flavor Right, who also will perform a live demo at the show.

Cakes will then be available for sale at the event.

Entries still are being accepted through this Saturday, March 23. Entry fees are $15 per cake, and each entry will receive two free entry tickets to the show. Tickets may be purchased in advance for $10. Day-of-event tickets will be $15.

All entry fees and cake sale monies will be donated to East Tennessee Children's Hospital.

"I really wanted to celebrate in a unique way," said Clark, whose business actually marked 30 years of operation Feb. 14. "And we always do the Fantasy of Trees every year (which also benefits ETCH). The ladies there were on board with us doing this event."

As of last week, about 75 cakes had been entered in the show and competition, with Clark "hoping to have 100" by the show date.

"We have had people as far away as Texas and Indiana taking part," he added.

While Sugarbaker's provides cake, candy and other baking supplies, it does not offer on-site baked goods beyond its regular cooking and baking classes .

However, Clark has long supported the industry in a variety of ways, from helping sponsors or promoting other cake events, attending cake shows all over the country — and through a 30-year wedding catering business, from which he recently retired.

In addition to viewing and possibly buying the cakes, those attending can enjoy sampling wares from an array of vendors, including Mattie Moox the Coffee Camper LLC, the WildFlour Bakehouse, The Chocolate Ladies, Mama C's Gluten Free Goodies and Henny Penny Sweets.

The Macaroni Kid Knoxville also will offer activities and games for children.

More information about the event can be found online at www.sugarbakerssupplies.com, by calling 865-689-6877 or on the Sugarbaker's Facebook page.