Saddle Ridge residents help influence board members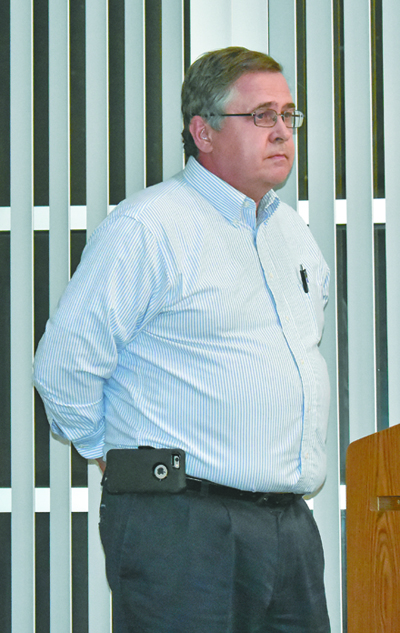 Saddle Ridge resident Tim Sayers was just one of several Pecos Road residents who spoke against approving the revised concept plan for the Ivey Farms subdivision

Saddle Ridge residents, upset at a revised concept plan for the Ivey Farms subdivision, helped change Farragut Municipal Planning Commission votes Thursday night, March 21, regarding one portion of the plan.

Developer Ryan Estabrooks discussed the revised plan, which showed several changes, including relocating the planned clubhouse from one parcel to another, and adding more traffic calming measures and revised walking trails, among others.

But it also showed changing a planned cul-de-sac into a through-road instead, which would link Saddle Ridge's Pecos Road to Ivey Farms.

The proposal brought Pecos Road residents out to protest, even as many also acknowledged a development of the size and scope of Ivey Farms — which is slated to have more than 200 homes when completed — is required by the Town to have two vehicular access points for emergency vehicles.

Ashley Kendall, whose comments kicked off nearly an hour of discussion, said she had two major concerns, estimating that more traffic caused by the change would pose hazards to the children and families who regularly walk the roadway in the subdivision, which has no sidewalks.

Kendall, also neighborhood watch coordinator, added she believed the increased traffic would diminish her capacity to monitor traffic.

"It is hard to keep an eye on who (would) come in and out," she said.

Her husband, Jeff Kendall, also addressed the issue, as did fellow residents Quentin Aten, Tim Sayers and Jeff Goodman.

While several times discussion was passionate, it was Sayers who acknowledged he had "a tone" when addressing the matter, and also said he believed a "tone" had been taken by several members of the Commission as concerns were discussed.

"I sense the decision has already been made," he said.

Sayers had written a lengthy e-mail earlier in the day to Town of Farragut Community Development director Mark Shipley, in which he asked members to "deny the current proposed Ivey Farm development plan" and "work with the residents in the Saddle Ridge neighborhood to develop a layout/plan … that is agreeable to the residents of … Saddle Ridge."

He also asked that any consideration of a connector road be one that would be used for emergency vehicles only, and would otherwise be gated off.

While FMPC voted unanimously to accept the revised plan with the stipulation the cul-de-sac issue be reverted to its original design, its members also stressed a through road would be added, connecting both subdivisions in the future.

A "stub road" extends at the edge of Pecos Road in Saddle Ridge, which was built into the original subdivision plan to be a connector into whatever residential development would be constructed in the future on the Ivey Farm.

"Just because there is a stub, it doesn't mean it has to be used," Sayers said.

"If we just gated that off, that would set a terrible precedent," Vice Mayor Louise Povlin said. "I understand your concerns, but that was never the intention for it to remain stubbed off and be an 'end of story' road.

"You are saying we should be able to come in and redesign" what the original intent of that road was, she continued.

"The best sign of a good compromise is when neither party is completely happy."

In other business, the Commission unanimously approved:

• A site plan for a $650,000 renovation of Anchor Park, which will include making the bathrooms and portions of the park ADA compliant, among other upgrades;

• Site plan for façade renovations to former Ingles building;

• Approval of plans for both pedestrian crosswalks at North Watt Road and Grigsby Chapel Road and a pedestrian facility from Everett Road to Andover Boulevard (on this latter issue, Commissioner Betty Dick abstained from the vote, as she lives in Andover subdivision);

• Approved a request from Comcast/Source Broadband Services for fiber optic extension from Outlet Drive and Snyder Road to the Overlook Apartments off North Campbell Station Road.

• Approved a site plan revision to 12802 Kingston Pike, which initially had been planned for a restaurant, but has been redesigned as an office building.