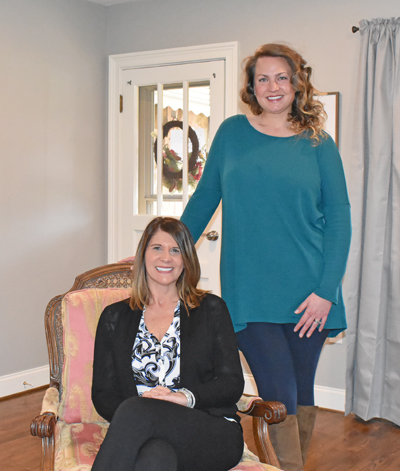 Lisa Cuffaro, seated, founded Destiny Adoption Services & Consulting in Florida in 2012, and, based on its success, began a Farragut-based location at 13047 Kingston Pike, which celebrated a ribbon-cutting. At right is Kirsten McBee, executive director of the Farragut facility.

Two women are doing their best to help couples and families realize the dream of adoption right here in Farragut.

Lisa Cuffaro, who founded Destiny Adoption Services & Consulting Inc. in Florida in 2012, became licensed for a second location almost two years ago, and is being assisted at the Farragut office, 13047 Kingston Pike, by Kristen McBee as executive director.

Cuffaro, a native of Kingsport, had been an adoption consultant in Florida before deciding to open her own agency in 1994. The success rate there led her to open a local satellite office.

"I have been doing this for (more than) 30 years, and I will tell you it is really fun, handing a baby to an adoptive family," Cuffaro said. "But I also love being able to help a birth mother find the right family for her child, and to know that we orchestrated that for her.

"I just saw a real need for our types of personalized service in Tennessee," she added.

Between Cuffaro and McBee, Destiny has more than 40 years of adoption experience. They also lead a multi-member team of professionals, including adoption specialists and legal assistants, to help with the pre- and post-adoption process, which can be a bittersweet and difficult journey even though both parties contact Destiny independently of each other to seek services.

"It is a turbulent and hard time for both the birth and adoptive parents," McBee said. "There is so much more to it than just the legal part of it."

Destiny considers that by ensuring it has extensive contact with the birth mother, along with the prospective adopters.

"We offer clinical counseling to help them work through the process," McBee said.

And Destiny makes sure separate case workers are dealing with each party.

"We don't like there to be just one person handling the whole case," Cuffaro said. "We also have an advocate for the birth mom to make sure we focus on both."

McBee said she personally has even provided labor and delivery partnerships for the women giving birth.

"A lot of times, they don't have anybody else," she said.

Even after the birth, "we will walk along beside them for as long as they would like us to," McBee added.

That includes offering post adoption counseling and a support group.

"We offer them free counseling forever," she said.

Other services include Adoption 101 classes "just to learn about adoption," Cuffaro said. Services also include embryo adoptions, foster care adoptions and home studies and post placement visits.

"We have great relationships with other agencies, along with foster care services," McBee said. "Our overall goal is to help you expand your family."

Cuffaro acknowledged adoption is expensive, estimating the cost between $30,000 and $55,000 "depending on the expenses of the birth parent."

Both women have personal reasons for their commitment: Cuffaro said her parents were foster parents, who went on to adopt a son and a daughter through the foster care system.

McBee struggled for many years with infertility before having her own two children, and deeply identifies with a family's yearning to expand their families.

That desire can take place in all family forms. Destiny does not discriminate, offering its services to the LGBT community among others.

For more information, visit destinyadoption.com or call 865-392-6261.