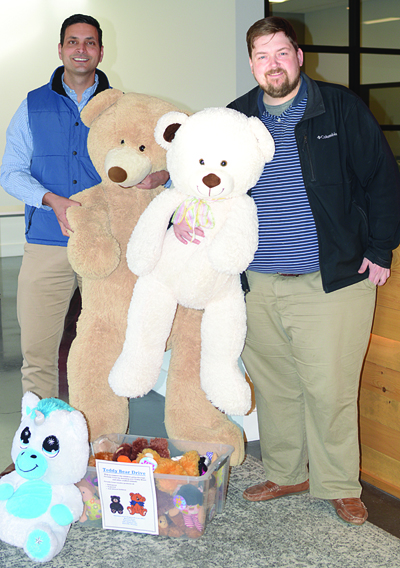 Mansour Hasan, owning agent of Mansour Hasan State Farm, and Clayton Leasure, insurance account representative with the agency, are campaigning to collect Teddy bears and other stuffed animals this month for innocent children going through Knox County Juvenile Court.

Aware of a need in Knox County Juvenile Court to help innocent children, Mansour Hasan State Farm Agency is collecting Teddy bears and other stuffed animals for the court.

He urges the community to join the effort by purchasing and dropping them by his office from 8:30 a.m. to 5:30 p.m., Monday through Friday, at 10811 Kingston Pike, Farragut.

The program started when Clayton Leasure, an insurance account representative with the agency, told him about the Juvenile Court's need for stuffed animals.

"My wife (Jennifer Comiskey) works for the Community Mediation Center, and her office is inside the Juvenile Court," Leasure said. "I was a social worker for eight years, and I worked at Juvenile Court a lot, so I saw, first hand, how impactful going through that process was for kids."

Hasan said whenever children come in to Juvenile Court for either abuse, neglect or custody-type issues, the center gives the children a stuffed animal to help comfort them.

"They rely on donations to get those stuffed animals," he added.

"They give out hundreds a year," Leisure said. "They're always needing more.

"It's really hard on kids," he added. "They've been through a lot already, and being put in the middle of a court situation is really stressful; so having that stuffed animal really means a lot to them.

"A lot of times, they don't really have anything like that at home anyway, so it's a good thing to help kids in the community."

"... For the whole month of April, we're going to do something special," Hasan said. "For every quote that we get from a client, we will donate one stuffed animal to the Juvenile Court.

"We want to extend (the campaign) to the community to help out and drop by stuffed animals they would like to purchase and drop by," he added. "They need to be in really good condition or brand new … preferably with a tag on it."

Clayton said about the court's stuff animals, "They said they never have enough."

"It's something we 'can' do," Hasan said. "We can't be there in court with them; we can't help them with what they are going through, but we can give them a stuffed animal."

He said the goal is to collect at least 100 stuffed animals in April. Entering this month, he had about 30.

"I know that with my kids, whenever they get a stuffed animal, they sleep with it that night and they get excited," Hasan said. "Just to see that in my kids and know we're going to be able to do that for the kids who are going through those traumatic times makes us happy.

"Hopefully, it will become an annual thing," he added.