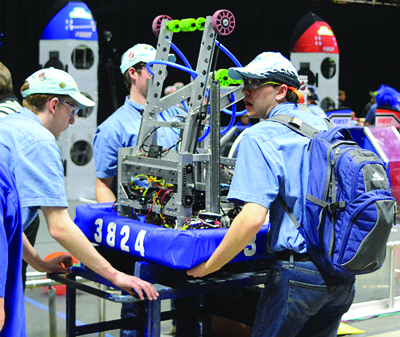 Seniors Tyler Engebretsen, left, Hardin Valley Academy RoHAWKtics 3824 FIRST Robotics build team captain, and Bryson Gullett, right, a team leader, push along their 3824 robot during Smoky Mountain Regional in Thompson-Boling Arena Saturday, March 30.

KNOXVILLE — Qualifying for the World FIRST Robotics competition in Houston later this month thanks to a high finish at the Palmetto Regional earlier this year, Hardin Valley Academy RoHAWKtics 3824 team enjoyed a tune-up run during annual Smoky Mountain Regional last weekend in UT's Thompson-Boling Arena.

With a "middle of the rankings" finish in the one-on-one qualifying rounds Friday and Saturday, March 29-30 — which determined the top eight alliances (three-team groupings) among more than 50 teams from a nine-state field that also included Germany and Canada — "we started out with a couple of robot problems," said RoHAWKtics robot operator Bryson Gullett, a senior.

"But as the day went on (Friday) and the qualification matches went on, we started doing better and better and making incremental improvements," he added. "We were really proud of that, actually, because we were able to improve after each match."

His 3824 team reached the quarterfinals as part of the No. 8 seeded alliance Saturday before being eliminated.

Speaking of identifying problems and making successful repairs, "here's something that's not quite as good as it should be, and then we go to the robot and make that improvement, whether it be software or hardware," Gullett said. "And then the next match it's really satisfying to be able to go out there and say, 'that improvement, that really helped.'"

Win or lose, "you learn plenty," he said about such major competitions, where only a handful of the dozens of regional teams qualify for the World competition in Houston later this month.

During the Palmetto Regional in South Carolina, "We made it all the way to the finals," Gullett said. "Now we're focused on preparing for (Houston)."

With an overall team near 40 members according to Gullett, RowHAWKtics driver is junior Jovi Yoshioka. "This is his first year driving, and he's done an amazing job, we're really proud of him," Gullett said.

Drive team coach is RoHAWKtics team member Ben Hancock, a junior.

Iris Li, a freshman, is the human player, "who places the game pieces where we need them throughout the matches so the robot can handle them," Gullett said.

The basic task this season for all FIRST Robotics teams involves "having goals strewn all over the field" where the robots are to place giant plastic balls into the circular opening of the goal.

One extra challenge, however, "is on each goal you have to cover an open area with one of the gate pieces," which is a circular disk, making sure the balls placed in the goals don't escape the goal's box, Gullett said.

"It's a cover-and-load type of game," he added.

Extra points are awarded near the end of the two-minute competitions when each team attempts to mount and elevate its robot onto a platform.

KCHS learning, improving

Knoxville Catholic High School 2393 was part of a three-team alliance that also made it to the quarterfinal round Saturday, coming close to advancing to the semifinals before being eliminated in game 3 of a best-of-three match.

Regardless, the Irish enjoyed "a learning experience. ... we improved a lot," said team captain Tony Spezia, a junior. "We went through a lot of adversity. We felt we did well.

"It's always a learning experience at these competitions," he added. "You never experience the same thing twice. It's always a work-in-progress. Your work is never done."

In addition to a close quarterfinal setback at Smoke Mountain, the Catholic team went to Palmetto and "finished 11th and got picked by the No. 7 seed alliance there," Spezia said. "We were within 5 points of winning both of those matches there."

Webb School of Knoxville FIRST Robotics team 1466 also competed at Smoky Mountain Regional.