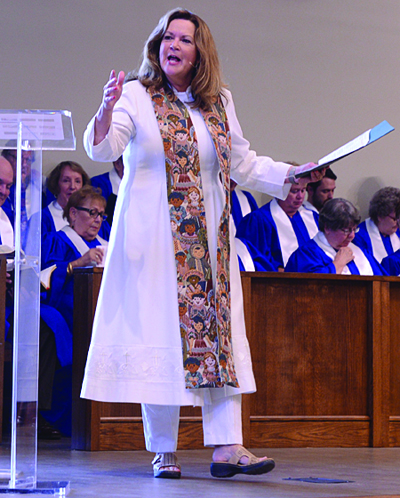 The Rev. Ann Robins, Ebenezer UMC lead pastor

While Ebenezer United Methodist Church grows, its focus remains on its missions.

As such, EUMC members invite the community to help support those missions at a barbecue, rummage sale and youth bake sale Saturday, April 6, at the church, 1001 Ebenezer Road.

Its Men's Club will host its annual barbecue from 10 a.m. to noon raise money for the Men's Club-sponsored mission projects. Meanwhile, United Methodist Women will hold its rummage sale from 7 a.m. to noon, Saturday in church's fellowship hall, to support its programs; and the church's youth will hold a bake sale that day, starting at 6:45 a.m.

People can expect the fellowship hall to be "row after row after row of tables and all kinds of stuff," said the Rev. Nancy Twigg, EUMC associate pastor. "It will flow out into the courtyard and cover the front parking lot and lobby.

"Twice a year, we have a Saturday we dedicate to raise money for missions," administrative assistant Stacy Varon said. "So, our Men's Club does barbecue to benefit their missions. The United Methodist Women do the rummage sale, and even our youth get involved.

"They bake and they prevail upon those of us who like to bake, and everybody bakes and brings things, and (the youth's) sales benefit their missions.

"There's hardly a part of the church that's not involved," Varon added. "So many people have a part in this. It's just amazing."

Last year, the church raised about $9,000 in Apri and $11,000 in November, Twigg said.

"We're all about impacting our community — not just this community but beyond — and those funds are put to use in different ways to support missions in different areas," she said. "We have a food pantry downtown that we run; we have church services for Water Angels congregation."

UMW also donates to Wesley House's elderly program, which provides postage stamps for women in prison. "That caught my attention because I never thought about that," Varon said.

The community also will have an opportunity to see how the church has grown, both in its facilities and its membership.

Since 2000 its average Sunday attendance has grown from 199 to 339, Varone said.