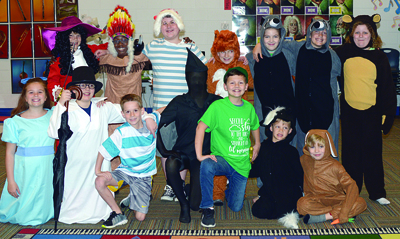 Among the 250 cast members of Northshore Elementary School's production of Disney's "Peter Pan Jr." musical are, front row from left, Cameron Simmons, Booker McKinney, Grant Pierce, Audrey Rust, Charlie Robinson, Nolan Eriksen and Will Keener. Back row, from left, are Ethan Eriksen, Max Spangler, James Mincey, Toby Vance, Avalee James, Jackson Wallace and Madelyn Broyles.

Northshore Elementary School will present four performances of Disney's "Peter Pan Jr.," the musical featuring two casts on two evenings.

With about 250 students — from first through fifth grades — taking part and most of the school involved in some way, the musical will take place Friday evening, April 12, and Saturday evening, April 13, in the NES gymnasium, 1889 Thunderhead Road, off Northshore Drive.

"This is the first musical our school has ever put on," music teacher Jessie Anne Compton said. The Friday night cast will perform in a 5 p.m. matinee and at 7 p.m.

The Saturday cast also will perform at 5 and 7 p.m.

"I feel amazing," NES fifth-grader Charlie Robinson said about playing Peter Pan in the Friday, April 12, cast. "It's such a wonderful experience.

"It feels great," fifth-grader Nolan Eriksen said about playing Captain Hook for the Friday performances. "I'm happy I got the part."

"It's really fun," fourth-grader Cameron Simmons said about playing Wendy in the Saturday performances. "My sister does acting, and I want to be like her. I just really like singing and acting."

Other leading cast members on Friday are Julia Tiernan as Wendy and Chloe Ellis as Tinker Bell, and Friday's cast includes Andrew Rust as Peter Pan, Piper Belcher as Tinker Bell and Branson Wygal as Captain Hook.

Compton and fellow NES music teacher Leona Williford are working together on the productions.

"We started working in August," Compton said, adding there are about 125 in each cast.

Putting on a musical takes "a lot of craziness and lot of hard work," Williford said. "And, it has just taken a village. It's been a great group effort."

The shows are open to the public. Tickets — whether bought in advance or at the door — are $10 each. Tickets can be purchased by students and their families at the school's musical website through its e-mail system, and there is a link — https://osp.osmsinc.com/KnoxTN/ — on NES home page, where the public can buy tickets.