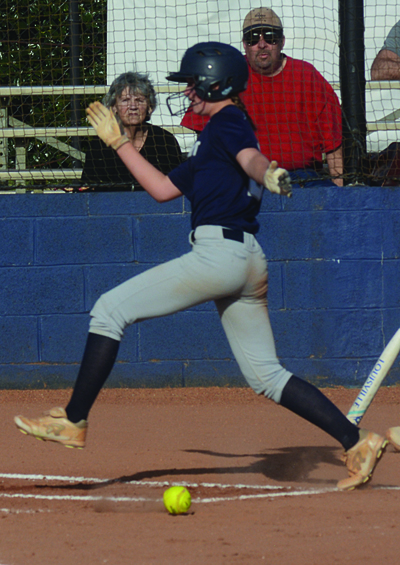 Freshman Sarah Livingston beats the softball to the plate and scores for the Farragut Lady Admirals in what became an 18-3 rout of District 4-AAA rival Knoxville West Thursday evening, March 28, at FHS's Bellamy Field.

Dominant in a District 4-AAA game while using no seniors, several Farragut High School softball underclassmen shined Thursday evening, March 28, at FHS's Bellamy Field.

Freshman catcher Autumn Caywood smacked a grand slam to highlight a seven-run bottom of the second inning in Farragut's 18-3 five-inning romp against Knoxville West.

"It was like a low inside pitch, a fastball," Caywood said about the pitch she crushed over the left field fence. Caywood also had an RBI single in a four-run Lady Ads bottom of the first.

Coach Nick Green's Lady Admirals followed that up by going 4-1 during the Upper Cumberland Tournament in Cookeville last weekend, finishing third among a 15-team field.

A 9-8 district loss at Maryville Monday, April 1, left Farragut at 13-5 overall, 4-1 in 4-AAA action.

Farragut 15 West 3

Against West, junior Kallie Overcash connected for a 2-RBI single in a five-run fourth inning, and later added an RBI walk. Bailey Myers, junior shortstop, added an RBI single in the second.

Freshman Vivian Boles began a two-run third inning with a triple to right field. Sophomore Cameron Young then smacked an RBI double to deep left field, and later picked up an RBI after being hit-by-pitch.

Freshman Lauren Brakovec blasted an RBI double to deep center field, and later joined sophomore Kaleigh Taylor to earn RBIs with bases-loaded walks.

Avery "Ace" Strickland, yet another freshman, opened the game with a triple, scoring on a throwing error, while also having a bunt single. Junior Emily Litrakis provided a first-inning sacrifice fly.

Two other juniors contributed offensively: Katie Tuggle and Anna Lynn each added a single.

Winning pitcher Abigail Greene, a junior, allowed three runs, four hits and two walks with three strikeouts in five innings. "It wasn't my best, but it was pretty good," Greene said, adding her highlight was "the double play that I made" in the fourth inning.