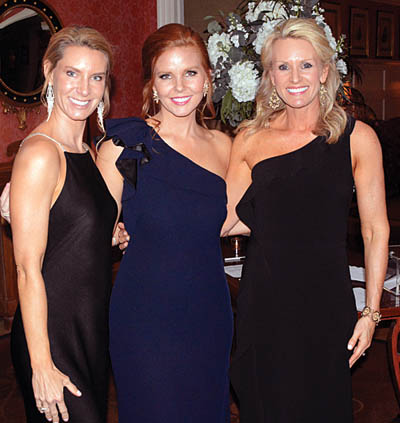 Officers of newly-formed Farragut Ladies Society include, from left, Arrington Russell, president/director; Kathryn Phillips, vice president; and Stacey Hall, secretary. Farragut Ladies Cotillion Black Tie event, held in Fox Den Country Club main ballroom Saturday evening, April 6, introduced 62 FLS inaugural members.

Farragut Ladies Cotillion Black Tie event, held in Fox Den Country Club last weekend, introduced 62 inaugural members of Farragut Ladies Society.

For all the glamour and fun represented last Saturday evening, April 6, in FDCC's main ballroom — enjoying gourmet fare and wine before dancing the night away with husband or boyfriend escorts — the goal of FLS is meat and potatoes service according to its 2019 leader.

"It's to unify the Farragut community while supporting local charities," FLS president/director Arrington Russell said. "This year we support Restoration House.

"The Restoration House walks alongside low-income single-parent families, helping them break harmful cycles and regain hope and a future through supportive transitional housing, ally teams, family advocacy and youth development," Russell said.

"This community outreach program has made measurable progress over the last 14 years," she added.

"If you take a look at the women who enter Restoration House and complete their program, the numbers are inspiring. Ten percent have jobs going in, and seven years later 100 percent are still employed."

While none of the women "are able to meet their food and housing needs" before entering the House, "Upon completion of the program, 88 percent can provide for their families," Russell said.

To contact Restoration House for making a donation, call 865-200-5406 or e-mail info@therestorationhouse.net

Other Farragut Ladies Club inaugural members are Jessica Barksdale, Mary Susan Bennet, Lauren Bickford, Meg Brown, Emily-Anne Buck, Brooke Burnette, Courtney Childers, Taylor Clement, Meredith Crawford, Becky Crenshaw, Megan Culbreth, Lindsay Curtis and Erica Everley.

Groundbreaking members also include Kristin Farr, Amy Fisher, Connie French, Robin French, Carrie Gandy, Kimberly Goldsborough, Julie Goodrich, Stacey Hall (secretary), Charity Heatherly, Mary Kate Helton, Ashley Holmes, Meredith Hulette and Heather Hutchings.

Other ladies serving as charter members are Ashley Johnson, Emily Johnson, Lori Johnson, Rachel Kimrey, Catherine Kingery, Leslie Lane, Shelly Lawson, Emily Long, Lauren Mack, Jenny Martinez, Stephanie Mayfield, Erin McCarty, Beth Miller, Chelsi Moore and Lauren Morgan.

Rounding out the groundbreaking membership are Kristen Panella, Julie Parrish, Kathryn Phillips (vice president), Cheyenne Rust, Lesli Sanders, Nikki Schaerer, Toni Scott, Elizabeth Sherrod, Andrea Skeen, Beth Slatery, Laura Slyman, Chelse Stevens, Wendy Stiles, Ashley Swor, Jessica Taylor, Hunter Thomson, Brooke Thurman, Kelsea Walters, Shenika Welch-Charles and Heather Word.