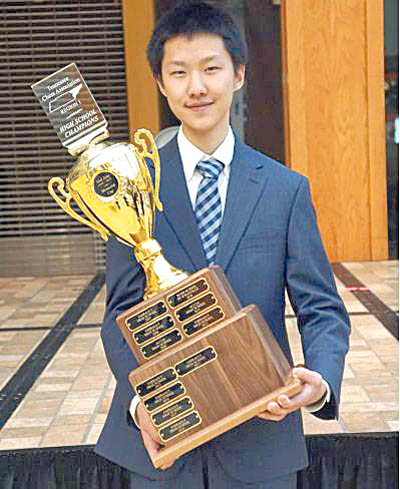 Farragut High School junior Forest Chen, a national chess master, is reaping benefits from his skills.

Farragut High School junior Forest Chen, 16, is one of five high school students across the country to receive a 2019 Scholar-Chess player Award from the U.S. Chess Federation.

The awards were presented during the 2019 National High School Championship at Renaissance Schaumburg Convention Center in Schaumburg, Illinois, March 15-17.

"When I heard the news that I had been selected, I was delighted, at first, and then honored to have been awarded such an esteemed and distinguished scholarship," said Chen, who added he did not expect to win.

"It is a highly prestigious and selective national scholarship, selecting only five players every year, and I wasn't sure if my academics and chess were the best in the nation among juniors and seniors," he said.

The awards target high school juniors and seniors who excel in academics, chess and leadership. Chen and the other four winners each received a scholarship award of $1,500.

However, "The award means much more to me than just the money," said Chen, a national chess master. "It represents all the hard work I have put into chess for myself — nine years since 2011 — and for promoting chess in the community — five years since 2015 — and the challenges of maintaining my academics and chess. ..."

"We are very happy with Forest winning the Scholar-Chess player Award from the U.S. Chess Federation," Zhao said. "This is an award that commends high school juniors or seniors who excel in academic, chess and leadership.

"As parents, we know how hard it is for a student in junior year to manage his school and chess at the same time," she said." Somehow, (Forest) managed it and has managed well.

"I guess both are his passion and we are just happy for him," Zhao said. "This award will support his education in college and also provide support for him to get more people to fall in love with chess wherever he goes for college."

After graduation in May 2020, Chen plans to attend college, but has not decided on a college.

"I hope to major in either a math- or science-related field, as I truly enjoy both subjects," he said. "I plan to choose a career based on my major, of course, which I enjoy and believe is making a difference in the world," he said.

"I think chess has been one of the best coaches for building skills," Chen said. "It teaches determination, perseverance, time-management skills, risk analysis and self-discipline, among other skills.

"I think, no matter what major I choose, these skills will adequately prepare me," he added.

Other scholarship recipients are Albert Liang, 17, of Marietta, Georgia; Emily Nguyen, 16, of Austin, Texas; Jennifer Yu, 17 of Ashburn, Virginia; and Howard Zhong, 17, of Norman, Oklahoma.

"These annual recognitions, provided by the U.S. Chess Trust with the support of the National Scholastic Chess Foundation and U.S. Chess, are intended to encourage high school students who promote a positive image of chess," the press release stated.

To qualify for the awards, applicants, who are US Chess members, are required to:

• Play in at least 25 regularly rated US Chess or FIDE games during calendar year 2018;

• Show outstanding achievement in academics and chess;

• Have completed at least one year of chess-related community service project since starting the ninth grade;

• Describe in an essay of 500 words how being selected as a 2019 Scholar-Chess player would enable the recipient to further their education, improve their chess and allow them to continue contributing to the chess community for the next five years.

"The inclusion of scholarships for young talented chess players, who are good students, directly contributes to rewarding excellence in academics and chess," said Beatriz Marinello, women's international master with USCT. "This contribution goes far beyond just subsidizing the cost of an education; the support is the quintessence of affirming bright young kids' dreams."

"The NSCF firmly believes that academic excellence and chess expertise go hand in hand," said Sunil Weeramantry, FM of NSCF. "We are proud of all our winners and wish them every success in the future."

"The Scholar-Chess player Awards speak directly to our US Chess vision: 'Chess is recognized as an essential tool that is inclusive, benefits education and rehabilitation and promotes recreation and friendly competition,'" US Chess executive director Carol Meyer said.