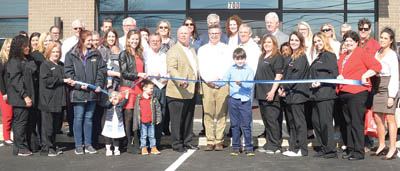 AFC Urgent Care held a ribbon cutting at its newest center, 700 N. Campbell Station Road in Station West shopping center, Thursday, March 21. Principal co-owner Larry Kugler (center with scissors) is joined by fellow principal owners Jack Fromm (to Kugler's left) and John Tacker (back row, fourth from left). Dr. Charles T. Rudolph (front row, right of Kugler) is the center's medical director. Also on hand was Trent Norris, AFC franchise business contact (back row, third from left), and other center staff. Knox County Commissioner John Schoonmaker, representing 5th District (back row, behind Rudolph), was joined by Farragut Vice Mayor Louise Povlin (back row, beside Schoonmaker), Farragut Mayor Ron Williams (back row, fifth from right) and FWKCC members.

Farragut residents and visitors alike have a new venue for health care in Town.

American Family Care's Urgent Care Family Care unveiled its new center, 700 N. Campbell Station Road in Station West shopping center, with a ribbon cutting hosted by Farragut West Knox Chamber of Commerce Thursday, March 21.

Opening day was Friday, March 22.

"It's a very warm welcome from the folks at Farragut. It means a lot to us," said Larry Kugler, one of four principal owners of AFC Urgent Care Family Care, along with his brother, John Kugler, Jack Fromm and John Tacker.

"It's an impressive facility with an impressive amount of opportunities for what we all need on an urgent basis," Farragut Vice Mayor Louise Povlin said.

Pointing out hotels in the center's vicinity, Povlin added, "If people come to our hotels and something happens, they need to know there's a place they can go."

Kugler described the center as a place of quality health care "at the speed of your life."

"We're not an emergency room, and we're not your primary care doctor," said Dr. Charles T. Rudolph, medical director for AFC East Tennessee's Farragut center. "We provide everything in between, from sore throats, runny noses, stomach aches to sprained ankles, lacerations, Workers Compensation, DOT physicals, pre-employment physicals, drug testing,"

He added if someone needs to go to the emergency room, his staff would stabilize the patient until an ambulance can be arranged.

"AFC provides a moderately complex lab, full-body digital x-ray and a physician so that when you come in, you get a lab (work) and a diagnosis, you can find out today what the issue is," Kugler said.

Rudolph said the center also runs blood counts and blood chemistries and rapid tests for strep throat, flu and urinalysis and other ailments, and provides flu shots and serves the area's church youths going on mission trips out of the country.

All patient care is on a walk-in basis, and most insurance plans are accepted, he said.

"Depending upon the time of year and how busy our office is, we keep a promise of getting you in and out in under 60 minutes," Rudolph said "We believe we do this better than anybody else because we treat everybody who walks in the door like our family member or friends."

The center's operating hours are from 8 a.m. to 8 p.m., Monday through Friday, and from 8 to 5 p.m., Saturday and Sunday. It will be closed on Thanksgiving and Christmas, but open New Year's Day.