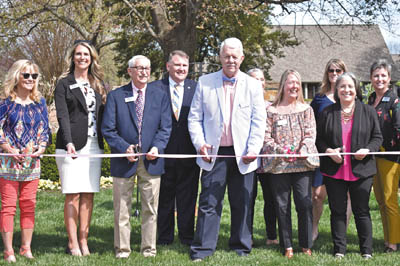 From left are Missy Kane, who is overseeing Dogwood Arts' Hikes and Blooms; Festival co-chair Ashleigh Christian; Lloyd King, advisor to the Board of Directors; Nick McBride; Farragut Mayor Ron Williams; Trails chair Dede Wilkerson; Jessica Emert; Knoxville Mayor Madeline Rogero; and Dogwood Arts Festival Executive Director Sherry Jenkins. The 7.9 mile Farragut Trail, which winds through Fox Den, Country Manor and Village Green subdivisions, will be open through Tuesday, April 30, along with Knox County's 12 other Dogwood Trails.

Dogwood Arts Festival officially kicked off Thursday, April 4, when area dignitaries, along with Festival officials and volunteers, cut the ceremonial ribbon at the front of Fox Den's Kingston Pike entrance — one entrance to the Dogwood Featured Trail for 2019.

With three Farragut subdivisions serving as Featured Trail for 2019, Dogwood Arts Festival kicks off its 56th year with a variety of events planned into May.

Farragut has two official Dogwood events: this past weekend's Book Fest, held at Town Hall, and this weekend's Trail and Tour Day, set from 1:30 to 5 p.m., Sunday, April 14, which will feature a tour of Farragut Museum from 1:30 to 2:30 p.m., an open house at Campbell Station Inn from 2:30 to 4 p.m., and a casual bike ride beginning at the Inn and concluding at Echelon Bicycles Beer Garden along West End Avenue.

Farragut Museum also will show the recently released documentary, "A History of Concord and Farragut."



Additional Dogwood Festival events:

• Two Farragut gardens are on the Open Gardens roster, at the homes of Michael and Mary Bates, 513 Altamira Drive., and John and Pam Garrity, 532 Altamira Drive.

• Additionally, in May, the Bates' rose gardens and those of Kathy Brennan, 706 Landing Lane, will be on display May 10-12 and May 17-19.

• Other area activities will include the Dogwood Arts Festival on Market Square April 26-28 —

and for nature lovers, ongoing Hikes and Blooms, Bikes and Blooms and Walking trials throughout April.

• Looking further ahead, the popular Rhythm 'n Blooms Festival will take place throughout Knox County May 17-19, Featured Gardens will be highlighted June 1-2, and a Regional Art Exhibition at the Emporium Center will run June 7-31.

For more information, visit www.dogwoodarts.com.