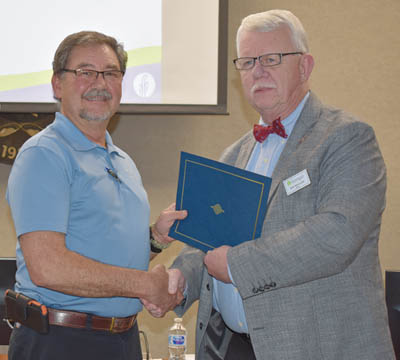 John Householder, left, Town codes official for 23 years, recently received a proclamation from Mayor Ron Williams upon announcement of his retirement Thursday, April 11.

John Householder Jr. may be leaving the Town of Farragut, but his legacy will certainly live on.

The Codes department veteran is retiring today (Thursday, April 11) following 23 years of service as codes officer/commercial plans examiner. He said he worked on plans for numerous commercial buildings in Farragut during his career.

"I was here before Turkey Creek was built, and I worked just about every building that went in there, including the hospital [now Tennova] and medical center," he said.

"We did Costco, restaurants — I would say I've worked on hundreds" of commercial buildings, he added.

Householder said the Town's growth and related demand for services "has never slowed down" since he has been working.

"Even during the [economic downturn] around 2008, it didn't slow down very much," he said.

Householder said he is looking for something a little less intense, but expects he will remain in the codes business, in which he had already logged nearly a decade with the city of Oak Ridge before coming to Farragut.

"I just want to get out of the fast-paced mode," he said.

Householder certainly contributed to the frenzy by not only working closely on plans and construction projects, but also by overseeing a new-to-Farragut program for subcontractors.

Under his watch, Town of Farragut began a licensing program for plumbers and heating and air professionals, a service that previously was not offered nor required.

"The state regulates building contractors but don't regulate subcontractors the same way," Householder said, noting he and former Town employee Steve Coker began the program.

"It should make residents more comfortable that qualified people are doing construction work on homes and buildings," he said.

His work with the Town is being lauded in his final weeks of employment. Mayor Ron Williams issued a Proclamation last Thursday, March 28, commending Householder, and praising his "vast expertise" in his position. Williams also noted the retiring employee "set the standard on how to treat people.

"We just want to honor him for a job well done," he added.

Householder's final day will be (today) Thursday, April 11, which will be "John Householder Day" in the Town, according to the Proclamation, and he will be further honored with a reception in Town Hall that same day from 3:30 to 5 p.m.