Chamber's 32nd Auction dollars reward FHS senior, Emerald Youth Foundation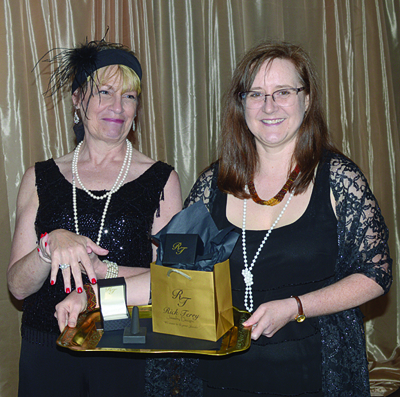 Susan Roberts, left, FWKCC executive assistant, and Lisa Paul with Bloom Into Parenting show the Rick Terry Jewelry Designs ring being auctioned.

Glitz, glamour and fun, 1920s style, was the theme for about 225 members and guests during West Knox Chamber of Commerce's 32nd Annual "Diamonds and Pearls" — a Gatsby Gala," in Rothchild Catering & Conference Center Friday, April 12.

While this year's theme encouraged guests to dress up as a character from the famed F. Scott Fitzgerald novel "The Great Gatsby," it also was a time to give.

Part of this year's ticket sales benefited Emerald Youth Foundation, which received $1,500. At the same time, Chamber intern Paige Gleason, an FHS senior, received a $1,000 scholarship.

"We can't do it without amazing people like you," FWKCC president/CEO Julie Blaylock said.

She also recognized the Chamber's Enterprise Club and FWKCC Board of Directors.

"(Board members) have done a great job of supporting us, supporting me, supporting the Chamber staff and leading the organization," Blaylock added. "(Enterprise Club) members let us go above and beyond, every single year, with an additional investment to the Chamber. … Lets us put on some additional programs and services and it lets us do some really cool things."

As for this year's "Gatsby" theme, "It's a fun time to buy stuff (to dress) for it," said Jennifer Sharp, who came with husband and Chamber member, Tom Sharp.

As many guests dined on crab and sirloin, others continued to check out the silent auction, which offered up paintings, autographed baseballs, entertainment items, gift certificates and more.

Laughter and some friendly competition pervaded the live auction, conducted by local auctioneer Bear Stephenson.

Auction items included a 14K white gold, diamond-encrusted ring with a South Sea pearl from Rick Terry Jewelry Designs; Abuelo's Mexican Restaurant; Date Night for a Year; a North Carolina cabin stay from Baker, Donelson, Bearman, Caldwell & Berkowitz; color ad packages from farragutpress and Cityview magazine; Fox Den Country Club's Golf for four; Michelin tires from Matlock Tire Service & Auto Repair; a chauffeured lake tour from Nautical Boat Club; and a four-day, three-night stay in Destin, Florida, from Mike Baker Insurance Consulting.

Attendees voted for the "Best Dressed Tabletop of Auction Items," giving farragutpress the first-place votes — a repeat winner from last year — with JC Penney being named runner-up.

Cumulus, Eaton Tax & Business and Tennessee Smokies provided additional tabletops.

While TDS Telecom was presenting sponsor, other sponsors were Rothchild and Town of Farragut; community sponsors were MBI and Y-12 Federal Credit Union; and media sponsors were farragutpress, 1180 WKCE radio and via media.