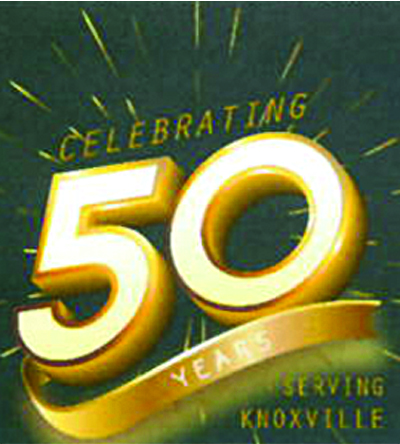 While StaffingSolutions is celebrating 50 years of meeting employment needs throughout the Knox County metro area, it's parent company, EmployeeBridge, has added four other specialty divisions in the past 15 years: Resource Accounting, Resource MFG, Medical Solutions and ProLogistics.

These specialty divisions hire employees on a temporary basis, as so-called "temps," sending them to companies that have relations with EmployBridge — a company where the employee hopes to be hired full time.

However, "We also have executive recruiters who do direct hire for higher level positions, to become the negotiating person when they're negotiating salaries," said Christa M. Early, area market development manager with Resource MFG, StaffingSolutions and Resource Accounting. "It allows a candidate to let us be their agent in the hiring process, to screen companies for them.

"Being in the community for 50 years, we have a lot of insight to companies in the area," she added.

Since 2004 "we've become the largest specialty staffing firm in the United States," Early said.

"We're a $3 billion organization now."

As for recognitions of excellence within their field, "We just got re-rewarded with the multiple 'Best of Staffing' honors from ClearlyRated. And that's for all of our divisions through EmployeeBridge," she said.

The company's divisions also earned "Best of Talent" and "Best of Client" awards from ClearlyRated, Early added. "What that means is our clients and our employees rate us through a third party. … Only 2 percent of staffing firms in the U.S. have actually earned this award."

Formerly known as Cobble Personnel Services, three of the five EmployeeBridge specialties are located at 8331 E. Walker Springs Lane. Resource MFG and ProLogistics are located along Middlebrook Pike. Resource MFG also has a Maryville office.

About the specialty divisions, "StaffingSolutions is pretty much office administrative call center (employment)," Early said. "Resource Accounting caters to accounting and finance positions. Resource MFG caters to manufacturing. And then we have ProLogistics, which is logistics management and warehouse staffing.

"We cater to the individual industries and people who have actually worked in these industries" to staff those positions, she added. "They have first-hand knowledge of the positions they are staffing for."

For example, "Our executive recruiter for our finance division is a former CPA," she said, "so she's handling finance and accounting positions at a higher level."

Another advantage, according to Early, is "partnering with Penn Foster to do a "'Better Work Life Academy.'

"After logging 80 hours with our company, the employee can, for free, log into this 'Better Worklife Academy' and they can get certification and further classes on different things like front office to welding to machinist-type training," Early added.

"They can do all the certifications. We incur the cost of that, and that is to grow their skills and their talents so they can become more employable as they grow where they're at. … They can have free training on software skills."

This is five of 550 EmployeeBridge specialty divisions nationwide — plus two others in Canada, Early said.