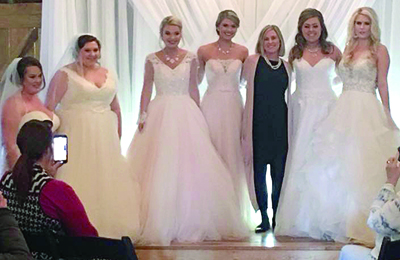 Sherry Hovan, third from right, owner of Lace & Glam Bridals, joins her models at Bella Barn of West Tennessee for a recent fashion show in McKenzie. Models, from left, were Tara Vernon, Chrissy Lennard, Emily Bolen, Tammy Yosich, Alivia Green and Tara Townsend.

Lace & Glam Bridals, a new wedding boutique in Farragut, is making finding that perfect wedding dress "all about the bride," owner Sherry Hovan said.

Hovan, a Farragut resident, opened her shop Monday, April 8, at 145 West End Ave., to provide brides custom wedding gowns.

Additionally, the store carries formal shoes, jewelry, veils and all other accessories to complete the wedding ensemble.

Hovan said the shop is open by appointment "to give our brides the very best possible experience.

"You're never going to find a more expensive or a more important dress, and it's just an honor to get to do that," she added.

Sensitive to time, "When a bride books with us, I don't want her to have interruptions," Hovan said. "I want her to be the center of my attention and the center of her bridal party's attention, so it's all about her.

"I want them to have a very relaxing, customized experience, where they can take their time," she added. "They can try on as many dresses as their hearts desire."

Hovan said the shop has sample sizes from 4 to 24, and keeps about 150 dresses in stock.

"That's the amount I'm comfortable with," she said, adding, "The way it works is a bride would come in and try on a dress in her size or a size larger, and (If it is too big), I'll clip it to fit because you don't buy a dress you try on — even if it is in your size."

The shop also carries attire for mothers of the bride and groom, "which I happen to be very passionate about because I'm a mom myself, and when my oldest (child) got married, I had the worst time finding something to wear," Hovan said.

Mothers of the bride also have a fresh, customized dress ordered, Hoven said. The shop also offers bridesmaids' dresses by ordering.

Twice a year, Hoven will have a sample sale of manufacturer's discontinued dresses in her showroom, which brides can buy "off the rack."

"So, the one you try on is the one you take home, and those are significantly reduced (in price), she said. "That's really good if you want a high-end dress, but you really need to save some money on it."

After leaving the healthcare financial field, Hovan said she was looking for something "fresh and new" and started working in her friend's bridal shop, Bridals & Beyond, in Hardin Valley.

"I found that I just loved it."

To make an appointment, visit wwwlaceandglambridals.com, e-mail sherryhovan@laceandglambridals.com or call/text 865-712-4954.

Hovan also is available on Facebook and Instagram.