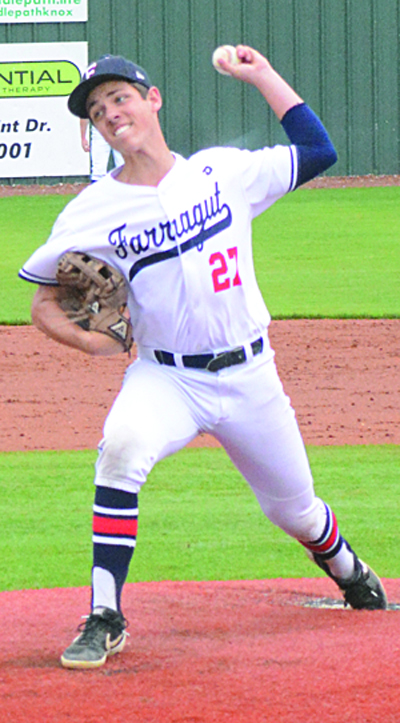 Adam Birkholz, Farragut junior southpaw, fires plateward during the Admirals' DeMarini-Diamond Academy Baseball Classic game versus Knoxville Catholic at The Ballpark at Farragut/John Heatherly Field Saturday, April 13. Birkholz helped limit the Irish offense, though KCHS did score 6 runs in an 11-6 loss to the Ads.

When Farragut High School sophomore second baseman Angus Pence went to the ballpark Saturday morning, April 13, he did so with a heavy heart: his grandfather was hospitalized with heart problems.

Pence was a late scratch from the starting lineup for the Admirals' showdown with Knoxville Catholic in the DeMarini-Diamond Academy Baseball Classic.

But he would come off the bench — and when he did, Pence wasted little time making a huge impact.

In his first at-bat in the bottom of the fourth inning, Pence clubbed a grand slam to help lift the Admirals to an 11-6 victory over the Irish at John Heatherly Field/the Ballpark in Farragut. After his home run cleared the fence, Pence pointed to the sky.

"I was playing this game today for my grandfather," said Pence, who went 2-for-2 with two runs scored and four RBI that gave the Admirals 10-1 lead over Catholic. "It was a day when he wasn't feeling well, but he's doing better now."

"That was a great moment for him," FHS head coach Matt Buckner said. "He's a great kid and a great player."

In his next plate appearance, Pence singled before scoring the final run of the game for the Admirals (23-2), who were playing their sixth game in five days.

Buckner also was pleased with his weary squad's effort on the diamond.

"I thought we played really well today," he said. "We gave up some runs late, but overall I thought we played pretty well."

It did take some time for Farragut to get its offense clicking against Irish starter Nathan Miceli, who retired six of the first seven Admirals he faced over two innings.

The Ads finally touched up Miceli, a junior left-hander, with six runs in the bottom of the third.

Farragut center fielder Carter Gillette got the Ads on the board with a two-run single that plated Ryan McCarthy and Parker Evans.

Shortstop Ashton King blasted a three-run homer later in the inning before Nick Barnes added an RBI double to make it 6-0.

The Irish (14-9) would answer when freshman center fielder Kaden Martin clubbed a solo home run off Ads' starter Owen Clark, who had baffled KCHS early.

"Their guy was really mixing up his pitches," Martin said of Clark. "He really did a good job keeping us off-balance and executing his pitches, but I was able to get a hold of that one."

The Irish scored four runs in the sixth thanks to RBI singles by Chris Torres and Garrett Lewis. Ryan MacDonald drove in a run with a sacrifice fly. Cam Beldyk added an RBI walk with the bases loaded.

Pence scored FHS's last run on Myles McFerran's RBI triple.

Catholic added a run in the seventh. Cooper Whitt doubled and scored on a sac fly by Rece Harpst.