Six multi-year volunteers highlight Town recognition ceremony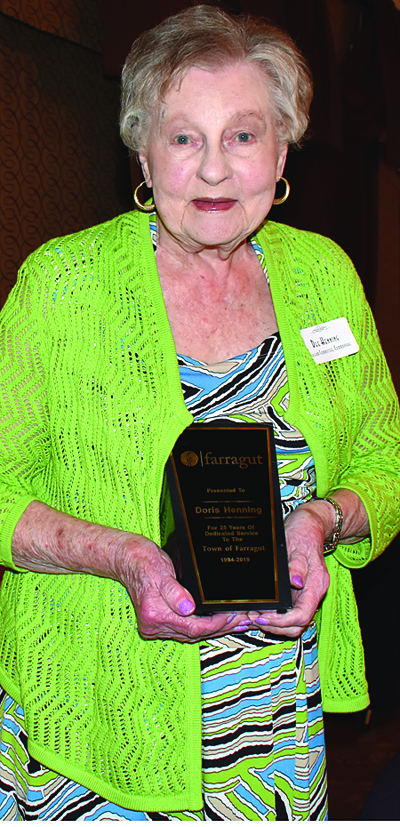 Dee Henning honored for 25 years of service.

Nearly 100 official volunteers who keep projects, committees and programs running in Farragut saw their efforts celebrated Friday night, April 12, during an annual ceremony in Fox Den Country Club.

Under a Roaring '20's "Great Gatsby Style" theme, Town of Farragut officials and administrators saluted residents who have given their time serving on various committees and other Town functions during 2018. They are known as "Farragut's Unsung Navy."

A handful of volunteers were honored for the most years of service, including Dee Henning (25), Gerry Gennoe and Clare Ansink (20 each), Betty Dick (15) and Ed Whiting and Joyce Moran (10 apiece).

Mayor Ron Williams thanked all volunteers for their "tremendous amount of hours" and also thanked Town employees "who put (the banquet) on."

Williams noted 96 active volunteers serving on 12 standing committees, including eight youth representatives, who logged 4,112 hours, which also included "museum, gift shop, Fishing Rodeo and Celebrate the Season" among many events and activities throughout the year.

The event also recognized the passing of former volunteers within the past year, including Mayor Ralph McGill, Barbara Beeler, Pat Sloan, Eleanor Gibson, Mabel Sumner and Paul Swan.