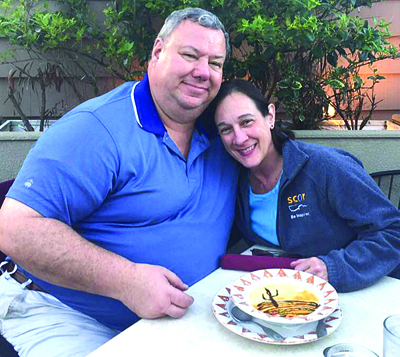 Rodney Meryweather with his wife, Alicia Meryweather.

Concord Yacht Club member Rodney Meryweather, who passed away last week near the club while apparently tending to his boat, is being fondly remembered by club Commodore Johnny Ballatin as "a good friend who loved sailing."

Rodney, 60, had been reported missing Thursday, April 18, by his wife, Alicia, after telling her he planned to clean his boat. It was docked at CYC, which is located along Northshore Drive near The Cove at Concord Park.

She contacted the authorities after several hours without hearing from her husband, reportedly going to the club but unable to find him.

Knox County Sherriff's Office responded, as did the KCSO Air Watch Unit and Knoxville Volunteer Emergency Rescue Squad Dive Team, the latter of which discovered Rodney's body in the lake around 11 p.m.

According to KCSO, the Knox County Medical Examiner had not released a cause of death as of press deadline Tuesday morning, April 23. "I had just talked to him," Ballatin said. "It was a shock to all of us. He had a very outgoing personality, and people liked him.

"He loved to tease, as part of the sport, in that sailor bravado, but he was always there to do things for other people," he added.

Rodney had been a "very involved" member of CYC since joining the Club in 2016, Ballatin said. In just that short amount of time, "Rod contributed a great deal toward making the club better … and managed a lot of important club projects."

Rodney also was a dedicated member and resident-elect of the Rotary of Knoxville Breakfast Club, and through that membership had worked to secure a grant for the CYC to start an Adaptive Sailing Program, Ballatin added.

The Rotary Club web page honored Rodney following his death, describing him as "a dedicated Rotarian who looked forward to being club president.

He already had collaborated with two other Knoxville clubs to work a Global Grant and was prepared to make a difference in the world and in the local community."

Rodney's enthusiasm for boating apparently was fanned through his U.S. Naval service, during which he served on submarines, according to information provided on the Rotary web page.

He also was involved with the Sea Scouts, and was set to take over the program at CYC later this year.

"Rod was working to take over that responsibility," said Ballatin, who added his friend also was "a man of faith" who was involved in The Way, a Biblical research, teaching and fellowship organization.

A native of Bar Harbor, Main, Rodney's professional profile on LinkedIn.com listed him as having specialized in IT/security management, engineering and compliance and project management.

His most recent job title was senior information security engineer for Data Classification & Protection with US Bank in Knoxville.

A reception is from 12:30 to 2:30 p.m., Saturday, April 27, at Berry Highland Memorial, 5315 Kingston Pike.

The reception will culminate with a Memorial service from 2 to 2:30 p.m.