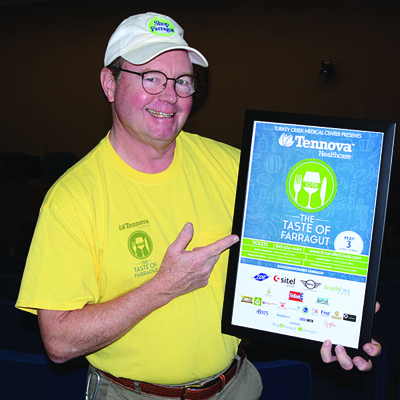 Stephen Krempasky, executive director of Shop Farragut/Farragut Business Alliance, with the official framed Taste of Farragut poster/flyer.

Annually drawing more than 1,000 food, beverage and fun lovers, the 10th Taste of Farragut runs from 6:30 to 9:30 p.m., Friday, May 3, at 11240 Kingston Pike (in the old Kroger parking lot across from Farragut High School's southern entrance).

Formerly known as Farragut Food & Wine Fest, Taste of Farragut will feature goodies from Seasons Innovative Bar & Grille, Newk's Eatery, The Cutting Edge Classroom, Jet's Pizza of Farragut, First Watch Café, Dickey's Barbeque Pit, The Juice Bar, Buttermilk Sky Pie Shop, Clean Juice, Don Delphi's Pancakes & Restaurant, Water Into Wine bistro & lounge, Big Kahuna Wings, Longhorn Steakhouse, Clean Eatz, Buddy's BBQ, NHC Cavette Hill, Tropical Smoothie Café, The Blue Heron Restaurant, The Shrimp Dock, Dunkin' Donuts and Zaxby's Turkey Creek.

"We have a lot of new booths … we've added over two dozen new vendors," said Stephen Krempasky, executive director of Shop Farragut, Farragut Business Alliance, which is facilitating the event once again.

The exclusive Very Important Bites experience is back this year.

A $75 ticket gets you access to the separate V.I.B. Tent, with seating limited to 100. "You will be treated to this five-course offering provided by separate chefs," a Shop Farragut press release stated. "Chefs will be on hand to explain these dishes as it is being served by volunteers.

"A separate beverage expert will pair each course with an appropriate adult beverage giving you the ultimate experience," the release further stated.

The V.I.B. menu:

• appetizer, from The Shrimp Dock, is five large Gulf white shrimp cocktail with Shrimp Dock's homemade cocktail sauce.

• appetizer, from Abuelo's Knoxville, is grilled pork tenderloin with a honey-habanero glaze on fresh field greens.

• salad, from Morrison's of Turkey Creek Medical Center, is a bed of fresh arugula and baby greens, topped with Benton bacon lardons, candied pecans, blueberry goat cheese, wine soaked pickled red onions and a strawberry champagne vinaigrette.

• entrée, from Water Into Wine bistro & lounge, is hand-rolled Southern Style meatloaf with house-made balsamic glaze and crumbled blue cheese; plus their roasted baked apple, brown sugared boneless pork loin; sea salt string beans; garlic-buttered potato mash; and roasted vegetable medley.

• dessert, from Berrylicious Bouquets, is a trio of chocolate confections: Berrylicious cheesescake is strawberry dipped in chocolate, topped with velvety cheesecake filling and Graham Cracker crumble; Pistachio and Craisin Bark, which is pistaschio and vraisin mixed in a creamy white chocolate with a hint of pink Himalayan salt; and their "famous" chocolate-covered Twizzler.

Outisde of V.I.B., the popular beer lounge, featuring beverages from The Casual Pint of Farragut and Mind Yer P's and Q's, will return.

ROUND 2 will provide Live entertainment, recreating sounds "mostly from the classic rock charts and modern, contemporary rock charts, from the '70s, '80s, '90s right up to today," Krempasky said.

General admission tickets are $30 for adults (if purchased in advance) or $35 if purchased at the gate. Admission for children under 12 is $10 in advance or $15 at the gate. Children under 5 free.

Tickets available at all Knoxville Ticket locations, online at https://tinyurl.com/y58xtt46 or by phoning 865-656-4444 or stopping by Knox Graphics, 10965 Kingston Pike; Goin' Postal, 11519 Kingston Pike; Water Into Wine bistrio & lounge, 607 N. Campbell Station Road; or CH Interiors & Gifts, 12556 Kingston Pike.