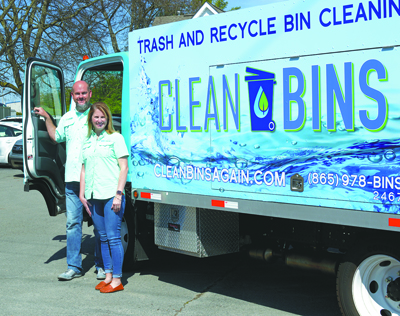 Farragut's brother-and-sister team, Kahle Madera and Will Leopold, is bringing curbside trash bin cleaning to residents and businesses with Clean Bins, a service they bring to a customer's home to clean trash cans, waste bins and dumpsters on site.

Kahle Madera and Will Leopold are helping the community clean up their trash bins while also helping save the environment.

The sister and brother duo opened Clean Bins, a business that cleans, sanitizes and deodorizes trash cans, bins and dumpsters, in March at 116 S. David Lane.

Madera already owned and operated the cleaning company Maid Brigade when Leopold, a U.S. Air Force veteran, recently retired as a police officer and moved to Knoxville.

Together, they believed this new business, which was founded "out of need," would be a good partnership.

Cleaning trash cans, bins and dumpsters is "the last item on the 'honey do' list," Madera said. "Nobody wants that job, but it has to be done."

The idea came about when Madera had to clean her own bins.

As a mother of three, Madera said her children throw trash in her trash bins that is not bagged all the time.

"Even when the trash is bagged, there have been spills," she added. "So trying to find a way to clean your trash bin, without using chemicals, but doing an effective job, is nearly impossible.

"You are left with pouring bleach in your trash bin and … there's no place to dispose of it except right down the road into our waterways. I don't like that at all, but I have to clean my bins."

Clean Bins uses 190-degree water at 3,500 psi pressure and an eco-friendly enzyme-based deodorizer in the bins.

"There's no harsh chemicals being used, and all that bacteria that's in your trash bin and (waste) water goes back into the truck, where we dump it at an Environmental Protection Agency-approved site," Madera said.

By using this method, "we're saving our waterways, we feel like, from all that bacteria most people are flushing right down into our waterways using their drain system."

The customized truck is a multi-tasker, Leopold said.

"It can do residential trash and recycling bins, it can do commercial dumpsters and it also can do surface power washing, driveways, parking lots and stuff like that," he added.

For more information, visit online at cleanbinsagain.com, e-mail Leopold at will@cleanbinsagain.com or call 865-978-BINS (2467).