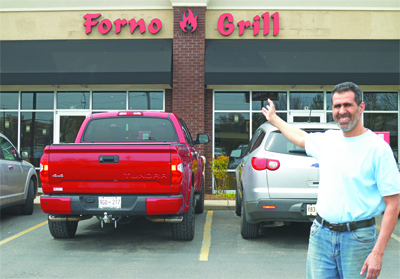 Forno Grill owner Adil Tanane welcomes the Farragut community to his new Italian eatery, which opened Thursday, April 11, at 743 N. Campbell Station Road next to Health Markets and Taco Boy.

Tastes of Italy have come to Farragut with the opening of Forno Grill, 743 N. Campbell Station Road next to Health Markets and Taco Boy.

Owner Adil Tanane, who brings with him 25 years of restaurant experience, opened the classic Italian eatery Thursday, April 11, as a franchise of the company, La Pentola.

Tanane explained "forno" translates to 'oven' and "pentola" translates to "cooking pot."

"That's what we're going to use — the oven and the cooking pot," he said.

"Everything is from scratch on the menu," which includes everything from appetizers, soups and salads to pasta platters, pizzas, calzones and sandwiches.

A combination of spices, methods, freshness, quality and service sets Forno Grill apart, Tanner added.

"Our signature dish is our meat lasagna" he said.

And classic fare, such as minestrone, a vegetarian soup, goes alongside chicken noodle soup on the menu.

Customers will find a child's menu and desserts, such as tiramisu.

Forno Grill also offers carryout and delivery from bitesquad.com.

Tanane said he opened the restaurant in Farragut because it is a cleaner community with many businesses.

"I have a few friends (in Knoxville) and they encouraged me," he said. "We were lucky we found a spot here."

Tanane, who has grandparents of Italian lineage, started working in restaurants while he was in college.

"Italy is intimately Mediterranean," he said. "(The region) all uses similar spices, similar cheeses … like Greece, Italy, Spain, south of France, Morocco, Yugoslavia and Turkey all use pretty much similar stuff, and the blending of spices and cuisines, that's what gets people."

Through the years, Tanane worked in and managed Italian and Mediterranean restaurants for other people.

"I always thought, 'I'm going to have to open my own (restaurant),'" he said. "I have a passion for it."

He owned his own Italian/Mediterranean restaurant for five years in Abingdon, Virginia, before pulling up roots and moving to Tennessee.

The restaurant is open from 11 a.m. to 9 p.m., Monday through Thursday; from 11 a.m. to 10 p.m., Friday and Saturday; and from 11 a.m. to 8 p.m., Sunday. For more information, call Forno Grill, 865-218-8300.