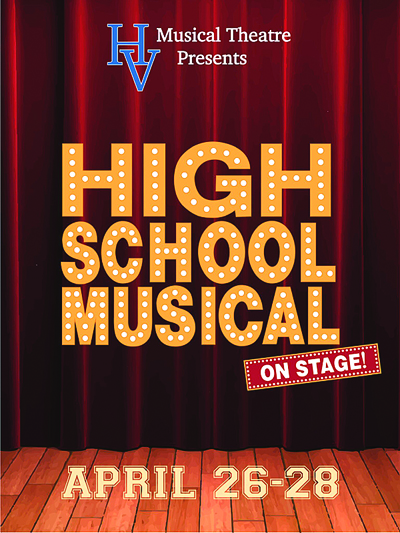 Hardin Valley Academy is blending its theater and choral program to present Disney's "High School Musical."

The students will perform the musical beginning at 7 p.m., Friday, April 26, and Saturday, April 27, and beginning at 3 p.m. Sunday, April 28, in the main auditorium of HVA, 11345 Hardin Valley Road.

Tickets, which cost $5 for students and $8 for adults, will be available for sale at the door only, beginning at 6 p.m.

"We chose 'High School Musical' because this is really getting to be the last of the kids who loved it growing up," said HVA choral director Teresa Scoggins, who is leading the musical.

There are 50 cast members, of which about 20 are tech and crew, she said.

The lead cast members are Grace Warnock, a senior, who plays Brainaic Gabriella Montez; senior Richard Brown III, who portrays jock Troy Bolton; junior Abigail Shackleford, portraying Thespian Sharpay Evans; junior Cameron Roberts, portraying Thespian Ryan Evans; junior Sarah Howell, portraying Brainiac Taylor McKessick; junior Will Rutherford, portraying Coach Bolton; and senior Madison Jones, portraying Mrs. Darbus.

The Jocks are Tristan Saidak as Chad Danforth, Brady Birling as Zeke Baylor and Jason Pablo Catopos as Jason plus Jake Borden and Julian Snoody.

Other Brainiacs are Sarah Meek as Martha Cox, Caleb Hurst as Kratnoff, as well as Zoe Abraham, Emma Boekweg, Emily Borden, Evan Boswell, Haley Coe, Elizabeth Farmer and Julia Ortner.

Other Thespians are Jacob Willen as James; Savannah Bowel as Susan; Savannah Estes as Cathy; Chase Anderson as Alan; Ragan Cloyd as Cyndra; Sierra Janaskie, Lena Jerkins and Madison Ramsey as Performance Arts Kids; also Madyson Baanyas, Corbin Breaux, Alyssa Estes, Alissa Hoffman and Megan Quigley.

The Skaters: Nathaniel Aberdeen as Ripper and Ian Alexander as Mongo plus Raegan Bowman, Oliver Edmonson, Ethan Klingerman, Alex Miller, Sydney Rightmyer, Makaela Webb and Kenzie Welch.

Adults are played by Oliver Edmonson as karaoke MC, Kenzie Welch as Ms. Tenny and Alex Miller as moderator.

Other students' roles: Lucas Cunic as Jack Scott; Alexis Padgett as Kelsi Neilson; and cheerleaders Damie Givens, Alandra Piety, Lexis Rice, Hannah Ritter, Hannah Ryan and Sophie Schibonski.

For more information, call the school, 865-690-9690.