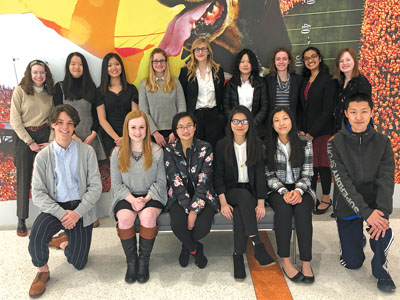 Farragut High School's History Day Team competed in regional and state competitions during the past school year. Team members, in no particular order, are Varsha Babu, MacKenzie Bond, Ariane Burt, Forest Chen, Katherine Chen, Ashley Dai, Meguire Frank, Lily Han, Ana Laurenti, Claudia Levi, Rena Liu, Christian Rees, Allison Strong, Alice Zhang and Yuxuan Zhang. Chen, Liu, Han, Levi and Zhang will be heading to the nationals this summer.

Farragut High School's Humanities Academy students are leading the way in regional and state competitions, with some heading to national events this summer.

The school's teams showed individual and team skills in the history, courtroom and diplomatic arenas during the 2018-19 school year.

"It's inspiring to be with a group of people I know are going to change the world, whether I'm talking about people who are going to be involved in grassroots movements or even future presidents," said senior Katherine Chen, Humanities Academy's first president who competed in both the History Day and History Bowl competitions.

"We've had a lot of fun," said senior Ronan Hix, a History Bowl team member. "Our team at Farragut has had a lot of success in years past, and we had success this year."

He explained History Bowl is a Jeopardy-style competition.

"We play against another team of four, and they read off questions about history-related topics that range from pre-history to right up to the modern day," he said. "We brought two teams to the local competition — varsity and junior varsity. Our varsity (team) won everything, and our varsity only lost to our varsity (in a match)."

Hix explained the FHS teams competed against six other schools, and then FHS's varsity played a game against its junior varsity to balance the brackets.

"(The varsity team was) undefeated our whole game," Hix said. "The JV team, which won second place, was undefeated besides playing the (FHS varsity team).

"We are quite proud of our performance," he added. The team went to compete in the nationals April 25 in Washington, D.C.

These teams are part of FHS's Humanities Academy.

"We've had the Humanities Academy for 10 years now," said Angela Breeding, who teaches AP European history, World history honors and AP seminar, is the Humanities Academy advisor and is in charge of History Day. "Our principal, at the time, wanted each department to come up with something, and I came up with competing in History Bowl and History Day."

Another club born out of the Humanities Academy was Model United Nations, who is led by Laura St. Clair, AP psychology, sociology and social studies teacher.

At state competition, Chen won second place for her documentary.

"We had a freshman, Rena Liu, win first place for her research paper," Chen said. "She competed against people who have been to nationals before. I'm insanely proud of her."

FHS's History Day Club also had a Group Website Team advance to nationals for winning second place: Claudia Levi, Lily Han and Yuxuan Zhang.

"I've been involved with Model United Nations — at the school and on the regional-level conferences — since I was a freshman," said senior Karlyn Simcox, who now is president of the club.

She explained Model UN is a large simulation of international politics for high school students, which she said is a large undertaking for some students.

"It's very much a teaching club because they have to know how to write papers," Simcox said. "The conference is divided into specific committees based on subject areas, so we have a lot of crossover between some kids. They are able to write resolutions, and that's what you would consider a bill in our government.

"You would take the resolution into the competition, and they are debated on the floor, and you merge your resolutions with other people's resolutions to eventually pass them through a whole conference.

"That's kind of like winning Model UN, getting your resolution as far as possible and having that collaboration with others," she said.

The last conference, Southeastern High Schools Model United Nations, was held in November 2018, where they competed with more than 700 other delegates.

"I think we took seven individual awards," Simcox said. "This was like record breaking for us. We had large success, as well as delegations, so that was a really proud moment for us."

Another proud moment was with FHS's Mock Trial Blue Team, led by social studies teacher Ben Collins, won first place in the regional competition in Knox County Courthouse, where they simulated a second-degree murder case.

"Our team won the regionals this year in February, and we had the honor, again (we went last year as well), to go to the state competition, and we placed sixth," said senior Blaine Liuag, a Mock Trial team member.

Knoxville Bar Association put on the competition.

"That's a bunch of legal minds of Tennessee who put together this fictional, but realistic, legal case and these high school kids can come together and treat it as though it were a legal case, like they are real lawyers coming in to represent their clients or to try to get a conviction or represent the legal system in general," said Liuag, who took on the role of defense attorney.

Some students who took part in National History Day will be heading to Washington, D.C., this summer to compete in National History Day.

"When we went to the state competition a few weeks ago, a lot of us are going to nationals in June at the University of Maryland in Washington, D.C.," Chen said.

While the History Bowl is about knowing the surface level of history, Chen said History Day delves into the depth of history in research.

"As long as I've been here, there's been no other opportunity quite like it at the high school," she said.