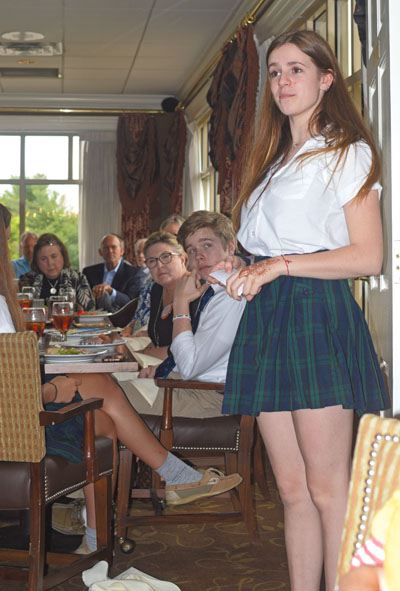 Rotary Youth Exchange student Antonia Schmitz-Pheiffer of Dresden, Germany, described her experiences as a student at Webb School of Knoxville this past school year to Rotary Club of Farragut members.

As one Rotary Youth Exchange student said her farewells, another embarks on an adventure.

Antonia Schmitz-Pheiffer of Dresden, Germany, spent almost nine months attending Webb School of Knoxville as a RYE student during the 2018-2019 school year, but she has since returned home after reflecting on her experience.

K'Onie Warren, 16, an Austin-East Magnet High School RYE student, is planning to embark on an year-long exchange trip to Brazil. She will be leaving August.

"This is my first time going overseas," Warren said. "I'm super excited and nervous."

Schmitz-Pheiffer reflects

Schmitz-Pheiffer shared her experiences in the Farragut area, East Tennessee and the nation during an RCF meeting in Fox Den Country Club earlier this month.

"The first thing, when I came to America, I thought, 'Oh my God, I am going to be so homesick.' But I've never been homesick at all," the German teenager said.

Schmitz-Pheiffer said she made good friends — but time has rushed by, which meant she was having a great exchange year.

"I don't even know how to explain a whole exchange year in a couple of minutes," she said.

During her stay, Schmitz-Pheiffer met other exchange students staying in Crossville, went swimming in the Tennessee River and went innertubing, attended a University of Tennessee football game, went skiing in Blowing Rock, North Carolina, traveled to Washington, D.C., New York, Boston and Gettysburg — and watched a lot of movies.

"We had a great time, and I'm going to stay in touch with (new friends) for a long time when I return to Germany," she said.

Flying to the United States also was a first for Schmitz-Pheiffer.

"I flew alone one time — I think it was 30 minutes," she recalled, but added she flew 11 hours to the United States.

"But I love flying, so that was kind of nice," she added.

Schmitz-Pheiffer said she also "got more open to talk to people" and "got more diligent at school."

Comparing Webb School to her school in Germany, Schmitz-Pheiffer noted, "The people at Webb go there because they want to learn something.

"At my school (in Germany), everyone is there because they have to be there."

She also observed the lack of public transportation in East Tennessee, meaning she had to depend on others to give her a ride to somewhere she wanted to go.

Six Knoxville Rotary Clubs selected Warren as an RYE student from an inner city school.

"I really appreciate all you Rotarians for taking the time to do this for me and all the other students," she said.

As part of her experience, Warren is required to learn Portuguese, the language of Brazil.

Wanessa Velloso, a UT senior lecturer of Portuguese who is tutoring Warren in Portuguese, attended the RCF meeting as well.

Warren will be going to Velloso's hometown, Belo Horizonte, the capital of the state of Minas Gerais.

"Minas is famous for its beautiful mountains, waterfalls, wonderful cuisine and the hospitality of its people — very much like Tennessee," Velloso said. "K'Onie will feel at home, just as I have always felt at home here."

"My family is there, and they'll be meeting and helping K'Onie, too," Velloso added.