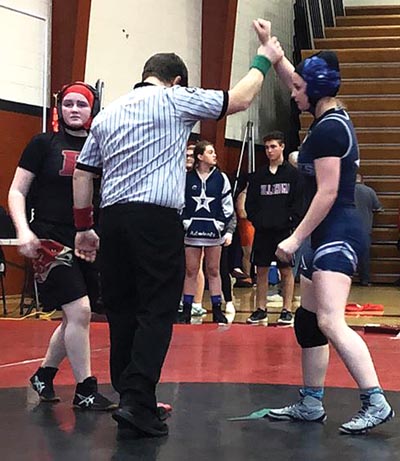 Hailey Stevenson, Farragut Lady Admirals senior wrestler, right, gets the referee's nod as the winner of this match from the 2018-19 season.

Hailey Stevenson has always been a bit of a trailblazer on the wrestling mat.

She started the girls program at Farragut High School — and now, having graduated, she'll start another program.

"It's a brand new program. So I'll start the program there like I started the program here," Stevenson said in reference to Limestone College in Gaffney, South Carolina, signing National Letter of Intent papers as a groundbreaking student/athlete there.

She got a late offer and signed Thursday, May, 8, in the school's Navy Junior ROTC fitness room in a ceremony that was attended by friends, family and teammates.

Stevenson wrestled for three years at FHS, winning a pair of state medals along the way.

She finished sixth at the state meet in Franklin in both 2018 and 2019.

As a junior, she placed at state despite wrestling with a dislocated elbow, which remained immobilized into her senior year.

Thanks to her success, the Lady Admirals had nine grapplers last season.

"She started our girls program," Farragut head coach Bobby Hampshire said. "She came to me and said, 'Coach, I want to wrestle.'

"She came into a room with all boys and it wasn't easy for her. She got beat up pretty good during that first year," he added.

"She finished sixth at state twice — and this year it was extremely hard," he added. "We all know how hard it is to wrestle with a dislocated elbow."

Stevenson becomes the second Farragut-area female high school wrestler to receive a wrestling scholarship.

Kenya Sloan, a 2018 Hardin Valley Academy graduate, earned a ride to Campbellsville University in Kentucky after going undefeated during her four-year prep career — capturing four state championships.

While Stevenson will compete far from home as she goes away to college, the move won't be quite as drastic.

"My parents are moving to Gainesville, Georgia, so they'll only be about two hours away," Stevenson said.

Mike Stevenson served as an assistant coach in the FHS program during Hailey's high school career.

Hailey will major in business — noting one thing that really appealed to her at Limestone.

"I liked the small class size there," she said. "They have a 13-1 (student-teacher) ratio there, and it's like 29-1 here (at FHS)."

Hailey noted she also liked the campus — and its quarry.

"They have a limestone quarry in the back of the school and that's why they call in Limestone College," she said.