Computer scientist forms company for energy efficiency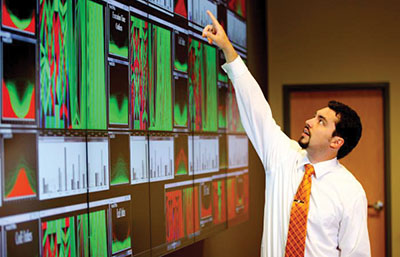 Dr. Joshua New, a Farragut resident and subprogram manager for tools and models at Oak Ridge National Laboratory's Building Technology Research Integration Center, points to displayed data. New and his team developed software that auto tunes building energy models to measure energy data.

Farragut resident Dr. Joshua New's work with Oak Ridge National Laboratories has led to the development of software that can make buildings more energy efficient — and has culminated into a new business, Tunation, LLC.

New, an ORNL computer scientist, is founder/chief executive officer of Tunation, LLC., formed as an ORNL-approved outside activity following the Department of Energy's LabCorps Cohort No. 1 program, now called Energy I-Corps.

Joining him in the venture are Aaron Garrett, co-founder/COO; Mark Adams, CTO; John Tipton and Yu (Joe) Huang.

"We are a business-to-business software-as-a-service company using artificial intelligence to create an accurate virtual representation of a building with unequaled zero-touch quality and accuracy, resulting in significant savings of modeling expenses, significantly reduced risks, financing of larger projects and an expanded market for cost-effectively making America's buildings more energy efficient," New said.

In short, he added, "We aim to tune every building in the nation, so our goal is in our name."

Along with his involvement in Tunation, he also serves as a subprogram manager for tools and models at ORNL's Building Technology Research Integration Center.

New has more than 75 peer-reviewed publications and has led more than 45 competitively-awarded projects in the past five years that involve websites, web services, databases, simulation development, visual analytics, supercomputing using the Titan and artificial intelligence for big data mining. He also is an active member of IEEE and ASHRAE.

Tunation, LLC., formed in 2015 in Farragut, sells software as a service, primarily to energy service companies and utilities, he explained.

"We actually have people in Alabama, South Carolina, who contribute to the source code," he said. "Since it's software, it's very low overhead."

New explained energy service companies contact other companies and guarantee they can help that business save money by lowering energy costs.

The customer would get better equipment, a better operating and more comfortable building with no cost up front, New said, adding the ESC would make its money on the back end.

"These companies do that, but they base the energy savings sometimes on building energy models, so they create a virtual representation of a building and then they calibrate that (representation) to actual utility build data to make sure the model is accurate," he said.

"Then they project the energy savings from different insulation, more efficient HVAC systems or boiler systems," New added.

Using Tunation's software, "We basically help those kind of companies create very accurate building models," he said.

New was part of the ORNL team that developed the software, called Auto Tune Calibration, which the U.S. Department of Energy funded.

"I realized it was a technical gap that the (energy) industry needed," he said. "There are a lot of people creating building energy models, but they typically go through a process of walking through a building, doing energy audits of the building and then manually calibrating the building model to the measured data.

"... But it you have the same model and same measured data with 10 different people, you get 10 different building models," New added. "I felt like that wasn't a very scientific process, it wasn't a reproducible process.

"We needed a good algorithm that could not just match the measured data, but could get the properties of the building right. (The software) does automatic tuning of building energy models to measure data. We used the fastest super computer at the time, Titan."

"We actually ran tests involving over 300,000 different algorithms to find what we consider the world's best calibration algorithm in terms of accuracy, robustness and time it took to run," he said.