Farragut businessman not letting a genetic disease dampen his life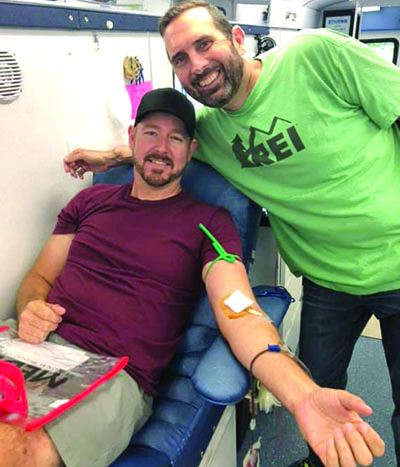 Greg Gilbert, right, poses with blood donor and his childhood best friend Tim Barrett, who was among more than 20 who turned out for a blood drive hosted by Gilbert and his wife, Christine Chenot Gilbert, (The Gilbert-Chenot Exit Real Estate Team) at their office in West End Center Tuesday, May 28.

Even though Greg Gilbert needs what will be his second kidney transplant and currently is undergoing dialysis, he does not feel sorry for himself.

"I live a pretty good life," he said. "I still go to work every day, and I have excellent support."

He is referring to his his wife and business partner, Christine Chenot Gilbert. Together, the Farragut couple comprises the Gilbert-Chenot Team, working out of EXIT Real Estate Professionals Network's Farragut office.

They have been together for seven years — married nearly two — and Christine is with him every step of the way on his most recent leg of a difficult health journey, which began when he was just 13 years old and diagnosed with Alport syndrome.

The genetic disease also afflicts both his mother and brother, with all three of them having undergone kidney transplants.

"We have 15 transplants in our extended family," he added.

Gilbert received his "new" kidney from a cadaver donor in 2001 and did well until he suffered a heart attack in 2013, which he believes was the beginning of the end of his transplanted kidney.

Finally failing last year, Gilbert was put on both dialysis and the transplant list.

"It was always possible," he said. "I just hoped that day wouldn't come."

Because Gilbert's disease does affect his kidneys, he has suffered other side effects, too, including loss of hearing and diminished eyesight.

"Your kidneys control your body's chemistry, and once those chemicals are out of line, it affects your whole body," he said.

Now Gilbert undergoes four hours of dialysis three times a week, getting up early to complete the process before he goes to work.

Even there, he sees the blessings.

"I go to a clinic full of sick people, but I just have a bad kidney," he said, noting many of the other recipients don't qualify for new organs. "I'm still in good shape overall," he added, noting he recently began working out again.

Gilbert and Christine thought their prayers had been answered when she was found to be a match. However, her own renal artery was found to be "medically short" and she was out of the running.

"We were disappointed, but I'm at peace — and the right one will happen," he said cheerfully.

They hosted a Medic Blood Drive at their West End office Tuesday, May 28, where more than 20 donors participated.

"We were pleased with the turnout," Christine said. "We wanted to get the word out for Greg, but we also wanted to make people aware about the need for both blood and organ donation."

Christine also started a Facebook page, GTG Strong (short for one of her husband's childhood nicknames, "Greg The Great"), to update followers on Gilbert's progress as well as helping spread the word about organ donation in general. "Living donors would be the best because the longevity (for the kidney) is so much greater," she said.

Anyone interested in being considered as a potential living kidney donor may call Ashley Dennis, Gilbert's donor coordinator at the University of Tennessee Medical Center, at 865-305-5340.