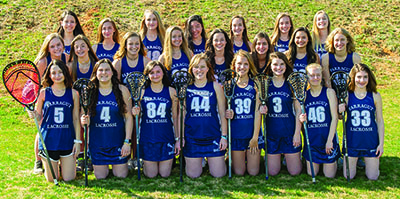 Farragut High School 2018-19 girls lacrosse team earned a state tournament berth, and No. 8 state ranking, with a final 10-4 overall record. Team member are listed by class (full first names of most players were not provided, although full names of top players are listed in the story). Seniors are C. Johnson, A. Whitehouse, B. Officer and A. McKeefery. Juniors are G. Malhota Cuce, E. Lin, M. Montross and A. Hernandez. Sophomores are M. Defranco, C. Coulter, C. Holcomb, C. Lovell, A. Castillo, H. Montross and L. Dase. Freshmen are K. Kelly, S. Courson, M. Johnson, M. McWhirter, T. Martin, K. Mori, R. Hall and C. Sherrell.

Though Farragut High School's girls lacrosse team faced a mini-crisis just before the 2019 season began — when its head coach had to suddenly resign — things turned out pretty well.

With parents of two players stepping up at the last second to serve as coaches, they helped the Lady Admirals finish with a 10-4 record and No. 8 state ranking among public high school teams.

"Overall we had just a tremendous season, overcoming a lot of adversity to get the season going," said FHS head coach Daniel McWhirter, who was assisted by David Montross. "The girls were real patient, came together very well.

"It was a lot of fun," he added. "They were all great kids and really just had a passion for the sport."

Perhaps the season's highlight was a dramatic 10-9 home victory against Ooltewah, the last regular season game, thanks to a tie-breaking goal in the game's final minute from Carolina Johnson, senior attacker — a critical triumph toward FHS earning a state playoff berth.

"That one really got us into the playoffs," McWhirter said about beating Ooltewah.

Johnson, second on the team in goals with 43, joined three other Lady Admirals who earned All-Region honors: sophomore Megan Defranco, midfielder who led FHS in goals with 48; senior Brooke Officer, defender; and freshman Maci McWhirter, midfielder (coach's daughter).

Johnson also came up big in Hendersonville against homestanding John Paul II earlier in the regular season, scoring the game-winning goal with just three seconds left in regulation play for a 9-8 Farragut victory.

The Lady Admirals skipper also praised sophomore goalkeeper Lili Dase, "who played every minute of every game.

"Every girl did something to help," McWhirter added.

"… We had a lot of talented girls who came together and made it a really big season."

A loss to top-ranked Ravenwood in the state playoffs ended Farragut's season.