Fisher shares his Holy Land experience with The Rotary Club of Farragut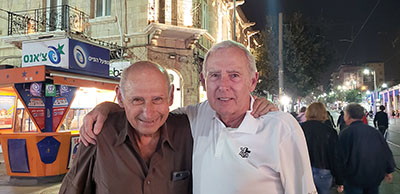 Ray Fisher, right, prominent West Knox County businessman and member of The Rotary Club of Farragut, met up with friend Ken Shoschak in Jerusalem during Fisher's October 2018 trip to Israel. Fisher first met Shoschak during a mission trip in 2017 — which was his first trip to Israel. Shoschak, who is from Boston, retired and moved to Jerusalem about 19 years ago.

A cultural exchange trip to the Holy Land last fall brought Ray Fisher closer to his Christian faith.

Bible study "just comes alive," said the prominent West Knox County businessman and member of The Rotary Club of Farragut, sharing his experiences during an RCF meeting in Fox Den Country Club Wednesday, May 28. "You don't think about it anymore; you see it."

For instance, he said on the last Thursday of the trip, Fisher and his group visited the tabernacle at Shiloh. After arriving home and attending Bible Study Fellowship the following Monday, he said, "We were studying Shiloh.

"I mean I'm sitting there, and I've still got the dust on my shoes from being at Shiloh and now we're reading about it.

"It's a place where you've been and it's alive right in front of your eyes right there," he added. "You haven't just read about it; you've been there.

"It was a wonderful trip, and it's not my last trip. I will be back."

Fisher traveled to Jordan and Israel the last two weeks of October 2018 with a group of 15, which included his sister and brother-in-law, Sue and John Cross.

"It was a cultural exchange that started in Jordan. We were personally involved with some of the people in Jordan," he said.

This was his first trip to Jordan, where his group spent an evening with the Bedouin people, a nomadic tribe who live in tents. "They've been around for at least 3,000 years," Fisher said.

While his group met other people, Fisher said his time with the Bedouin was "the biggest cultural exchange (experience) we had."

During that visit, the group slept in tents and ate with the tribe.

"It was a very interesting experience," he said. "The food was cooked underground. It was in a big metal stove that was buried in the desert sand, a couple feet underground, with coals underneath it to heat it up, and it was cooked for 24 hours.

"It was a mixture of beef, chicken and other meat, seafood and vegetables — all cooked in one container — kind of like a stew but without all the soup in it. Very interesting," Fisher added.

The Bedouins he met were "very accommodating," he said. "They were happy we were there. They served the food to us. It was a good experience."

Fisher's group also visited Mount Nebo, "where Moses was taken to see the Promised Land," Fisher said. "It's beautiful."

The group also stopped at Petra, an ancient archaeological site in Jordan's southwest desert and one of the new Seven Wonders of the World.

After leaving Jordan, the group traveled to the southern border of Jordan into Israel, visiting Old and New Testament sites.

"It was more of a tour in Israel than it was a cultural exchange," he explained. "We saw many sights there."

He showed slides of on-site photos taken of a 3,000-year-old Roman aqueduct; the Masada, an ancient fortress built by King Herod the Great where 960 Jewish Sicarii rebels jumped to their deaths rather than surrender to the Romans; the Ein Gedi waterfalls; and Jerusalem's Via Dolorosa, the processional route Jesus took while carrying the cross to His crucifixion.

Fisher also showed the Garden Tomb where Jesus was buried; the Sea of Galilee; the Dead Sea; Mount of Olives; the Jaffa (Old City) Gates; the Western "Wailing" Wall in Jerusalem's Old City, which is the remains of the Second Temple of Jerusalem; and the Temple Mount/Dome of the Rock, now controlled by Muslims.

This was Fisher's second visit to Israel. His first in June 2017 was a mission trip with members of Fellowship Church along Middlebrook Pike.

"That trip was designed to participate with services and working together with some of the Messianic Jewish congregations in Israel," he said.

"I was the only non-(church) member," Fisher recalled. "I was fortunate to be able to get a spot to go. The fellow who was my roommate, Mike Hanum, on the trip was a member there."

During the first trip, he helped clean up trash along the Sea of Galilee, prune olive trees for a Messianic Jewish organization and painted, gardened and pruned trees at a Messianic training center.