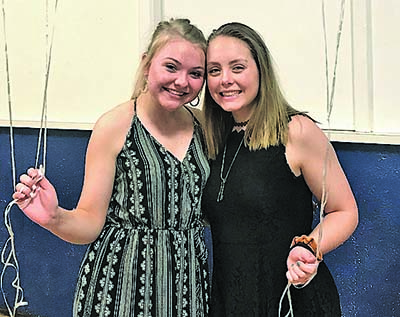 Madison "Maddie" Hullett, left, then Farragut High School theater student and camp instructor, joined camp participant Hannah Liske for a photo during last year's FHS Theater Camp. The school again will host the camp, from 9 a.m. to 3 p.m., Monday, July 22, through Friday, July 26, at FHS as a fundraiser for the theater department.

Farragut High School's Theater Department is presenting a Drama Camp for any rising first- through ninth-graders looking to discover the fun and love of theater.

The camp will take place from 9 a.m. to 3 p.m., Monday, July 22, through Friday. July 26, at FHS.

Camp participants may be from anywhere, not just Knox County, FHS theater teacher Anthony Wooley said.

"It's a week-long camp where kids get to move through a series of different theater techniques, and each of those techniques are guided by different high school students," he said. "At the end, on Friday, they are going to have a performance."

Participants also will learn design and improvisation techniques, how to create characters and how to work as a team, Wooley added.

About 20 FHS theater students will serve as camp instructors, of which there will be five leaders working with Wooley on curriculum and lesson plans. Wooley added he will be at the camp every day.

"But it is a fun thing for kids to be able to do, and quite frankly the younger folks like to work with the high schoolers better than adults," he said.

The camp is a fundraiser for the theater department, and money raised from the $125-per-student fee for the week will go directly to the program, which funds several of the student productions throughout the year.

"It's not just a random charge," Wooley said. "Last year the money we made allowed us to buy the rights to two separate student-directed plays.

"It's really a great thing because the (high school) kids get to work with the young kids and have fun, and the money we make helps them create more theater."

While Wooley speculated FHS has been holding the summer theater camp for more than 20 years, this is his third year holding the camp.

"When I started at Farragut High School, it was something that was very established," he said. "I know it's important to the community, and I'm going to keep it going.

"(Theater is) a wonderful way to express yourself, and some kids definitely find a home," Wooley added. "I have some kids who will be teaching this who have been doing (theater) since first grade.

"It's a good way, also, to learn about the theater program, if that's something you're interested in, as a young person. That way, you can be prepared for it in high school.

Overall, "It's just a very positive experience," Wooley said. "All the kids will be friendly, and they'll meet new people, and they'll get to experience some shared experiences with other elementary kids throughout the summer.

"Kids find an outlet to be themselves," Wooley added. "That's first and foremost."

Moreover, "the concept of public speaking and how to be part of a group and how to take a leadership role" are other aspects of theater, he said.

"Anytime you get into leadership, you are going to have to speak in front of people," Wooley added. "So, if nothing else, you get more comfortable inside your own skin in order to be the best you (that) you can be."

Registration currently is under way. To register, contact Wooley at anthony.wooley@knoxschools.org or just show up July 22.