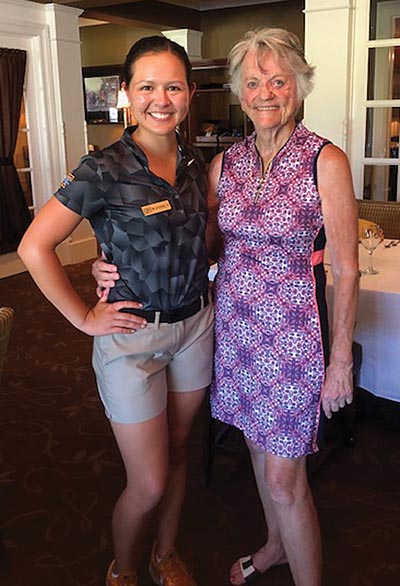 Waverly Whiston, left, a Tennessee Lady Vols Golfer (rising junior) and Fox Den Country Club Golf Shop summer employee, with Tina Sanders, FDCC member who has sponsored Whiston's full-ride scholarship during her first two seasons at UT.

With university scholarships running tens of thousand of dollars per school year, it can be "Southern California cool" to meet the person responsible for your full-ride golf scholarship to the University of Tennessee.

It was just a coincidence that Waverly Whiston, a rising junior Lady Vol golfer from San Diego, would run into that person as a summer employee in Fox Den Country Club Golf Shop.

Her scholarship sponsor each of the past two school years, FDCC member Tina Sanders, is one of eight women who started a roughly $1 million UT Women's Golf scholarship endowment in the late 1990s.

On Tuesday, May 21, "I was helping with one of our Ladies events out here with our other lady professional — it was the first day I was working here — and I was just going around talking to everyone, and Tina comes up to me and says, 'Waverly, what's your last name?'" Whiston, 19, said. "I said, 'It's Whiston,' and she said, 'Oh, you have my scholarship.'"

Dating back to Whiston's freshman season, "I remember writing her a thank-you note," the rising junior said. "But it didn't register to me that this was the person that is (sponsoring) my scholarship."

Since their first meeting, "I've gotten to know her really well working here at Fox Den," Whiston said.

"Fox Den had no idea that she had my scholarship when they hired her," said Sanders, a FDCC member since 1978 who has been a club champion at least one year in each of the past four decades with FDCC 18-Hole Ladies Club.

Though in recent years it's been typical to sponsor a different Lady Vol golfer each season, Sanders has sponsored Whiston each of her first two seasons, "Which I really like," Sanders said. "… I've had a scholarship player every year since (the late 1990s).

"And I got a nice little note from her last year, and I got another note from her this year," added Sanders, who annually "runs" the Mercedes Invitational women's college tournament at Cherokee Country Club in the fall while serving as a "referee," being a women's college golf official.

"It was just coincidental that she turned up at Fox Den. … I see Waverly quite often at the club — we're really proud of her, she's a neat young lady."

As for working at FDCC, "I really like it out here. The members are great and I can talk a lot about golf with everyone," said Whiston, who added she is pursuing an LPGA Tour Card.

Leaving Southern California and traveling roughly 2,500 miles east to attend UT, "My coach (Judi Pavon), she was great. Like when she recruited me, I just really liked her," Whiston said about why she chose Tennessee. "And I really loved the golf facilities. And we've got a really good business school here at UT, so I really couldn't pass that up."

After two years on Rocky Top, "It's going really well. We made nationals this year," said Whiston, an accounting major, about her golf team's NCAA tourney success. "A lot of people didn't expect us to make nationals."

As for her contribution to the 2019 Lady Vols, "I played pretty solid this year," Whiston said. "I had a tie-for-second (place) in the beginning of the spring" in the Florida Atlantic tournament.

"I think I had four top-25 (finishes) and two other top 10s," she added.