Exploring theater the goal of annual ESK Drama Camp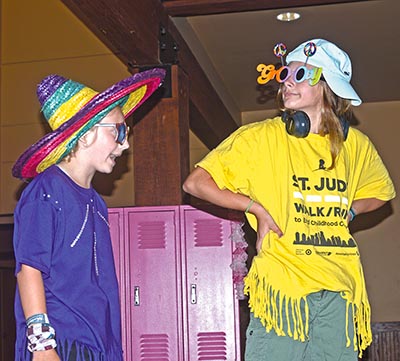 Students Sophia Timmerman-Pelensky, left, and Nora James, portray Jack and Jackie Scott, twins who announce the news during the show.

Episcopal School of Knoxville students and other community children took a week-long adventure Monday, June 3, through Thursday, June 6, exploring theater with ESK's annual Drama Camp.

The experience culminated in a performance Friday, June 7, of "High School Musical" and a luncheon in the school along Gilbert Drive.

"This (student participation) is probably the largest we've had," ESK Head of School Jack Talmadge said.

The leading cast consisted of Sydney Derr as Gabriella Montez; Rylee Pehrson, Troy Bolton; Katie Ann Moon, Sharpay Evans; Stephanie Kaczmaerk, Ryan Evans; Claire Sexton, Mrs. Darbus; Savanah Landfather, an assistant; Savannah Bush, Chad; Aziz Gharavi, Zeke Baylor; Avery Hillon, Kelsi Nielsen; Emme Milam, Martha Cox; Nora James, Jack Scott; Sophia Timmerman-Pelensky, Jackie Scott; and Alex Kaye, Coach Bolton.

"It's a one-week camp," said ESK music director Deb Sousa, who is going into her 18th year at ESK. "It's almost impossible for me to believe how much we can get done.

"It's a super sweet kind of week," she added "(The children are) super motivated, super excited and we were in really good shape by Thursday morning."

This is Sousa's 12th year holding summer camps.

"I had been up in Connecticut to see my niece one year, doing a summer show, and was so impressed with what they did that I thought, 'I'm going to try something like that down here,'" she said. "The first year, maybe I had seven students show up.

"This year, we have over 30," Sousa added. "(It has been) just a lot of fun and a lot of excitement."

She estimated about 100 came to see the show.

"Parents and family and friends always come out to see it," Sousa added. "We try to give something special for each student to do, so they all have costumes and props."

Auditions were held Monday and Tuesday for the choice parts.

"Everyone wanted to be Sharpay and Gabriella, so there was a little tension as we got to deliver those two parts" she noted and chuckled.

Not all students could play a lead part and "a lot of them were in the chorus," Sousa said.

"We always learn getting along well with each other, respecting each other's parts and everyone is part of the big picture," she added. "It's never just the lead people. You can't do it without the chorus, you can't do it without the cheerleaders, the basketball team.

"I love the theme of this show: 'We're all in this together,' and that's a great theme."

While most of the participants are ESK students, there were six or seven from the community.

Sousa observed such events normally are high tension with everyone "working like crazy," but added, "Everyone has had so much fun … and it never has to be perfect.

"The kids have been just amazing to me, kind and respectful of each other and great attitudes. We have to rehearse a lot and rehearse hard. They've just been great with that," she added.

"Plus, I have some wonderful co-workers."

They included Emily Letsinger and Kate Betts, two former ESK students, and a colleague, Megan Humphreys, a Pellissippi State Community College choral director.

"Everyone's always welcome to participate," Sousa said.