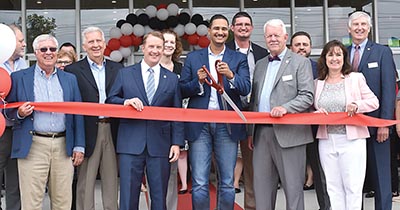 Sitel Americas CEO Mike Small, center, prepares to cut the ribbon at Sitel's new main Tennessee location along Outlet Drive in Farragut Wednesday, June 12. Joining in the celebration were, from left, Jim Nixon (sunglasses), authorized representative for Kodak Properties, which owns the site; Farragut Alderman Ron Pinchok; Knox County Commission Chair Hugh Nystrom (Fourth District); Farragut Vice Mayor Louise Povlin; Kelin Mock, Sitel site manager; Farragut Mayor Ron Williams; Hernan Quintanilla, Sitel vice president of operations; Knoxville Chamber COO Rhonda Rice Clayton; and Knox County Commissioner John Schoonmaker (Fifth District).

Sitel Group, which hosted a ribbon-cutting ceremony Wednesday, June 12, officially marking the grand opening of its new Outlet Drive location, has even more to celebrate as Sitel Americas CEO Mike Small took that opportunity to confirm earlier rumors the customer-service contact company is expecting to add 400 to 500 jobs by year's end.

"We will hopefully shake hands on a 400- to 500-seat opportunity within the next week," he told the more than 200 employees and officials who attended the event.

Small also thanked a number of people, including Farragut Mayor Ron Williams, Town administrator David Smoak, assistant administrator Trevor Hobbs, Knox County government officials and many others who have been working on the transformation of the former Outlet Mall building in recent months, which now houses Sitel employees who previously worked at two separate area locations.

"I am thrilled to be here today to recognize and celebrate the tremendous results of working together and building trust," said Small, who cited many individuals as being responsive and dedicated to working through challenges that occurred during the process.

"We could not have picked better partners," he added.

Small also praised the work and leadership of Kelin Mock, site manager for the Outlet Drive offices, for the smooth transition, then recognized Sitel contingents from other sister sites throughout the Americas, including Mexico, Columbia, Nicaragua and Canada, among those who attended the event.

"We are here as a team … and we support our friends in Knoxville," he added.

The company literally got the red carpet treatment, as Knoxville Chamber hosted the event. A bright crimson rug led the way into the newly-renovated building, while red and white balloons decorated the front doorways and inside the lobby, welcoming company and local dignitaries who helped make the company's relocation to what is being referred to as its "main Tennessee location" a reality.

Rhonda Rice Clayton, Knoxville Chamber COO, emceed the event, and recognized partner organizations Farragut West Knox Chamber and the Blount Partnership.

Knox County Commission Chair Hugh Nystrom (Fourth District)took the podium and shared Sitel's impressive accomplishments, not only as a local and regional employer but also as a global company with $1.7 billion in annual revenues and more than 75,000 employees around the world.

Williams also was called on to address the crowd and said Sitel's relocation was just one indication that "business is booming in Farragut."

He went on to share that mindful planning and proposed zoning changes in the area are specifically designed to bring even more businesses and opportunities to Farragut.

"We hope you will both happy and fruitful here," Williams added.

The ceremony concluded with the ribbon cutting, which was then followed by light refreshments and tours of the building.

"This has been a great move for us, and for our employees," Mock said.

"As development continues along Outlet Drive, and with the building of 2,000 new homes not far from here, it is right where we need to be," he added.