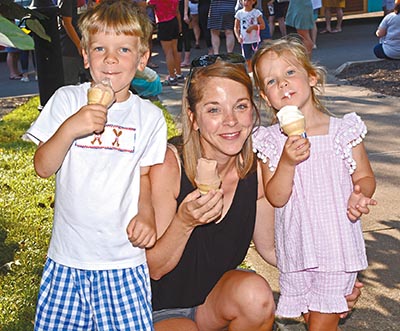 Nicole Winstead with her son, Walker, 5, and daughter, Avery, 3, enjoying the afternoon with ice cream.

Several hundred who attended 5th Annual Summer Lawn Chair Concert Series, presented by MLilly, at Founders Park at Campbell Station Saturday afternoon and evening, June 15, saw things get kicked off with Town of Farragut officials cutting the ribbon to officially introduce the park's new stage. (See photo on page 3A of our print edition).

Kelsi Walker, Matt Campbell, Pale Root and Roger Alan Wade and the BAHF Orchestra were featured entertainment.

While food trucks handled rampant cases of the munchies, children enjoyed hula-hooping, sidewalk chalk art, letting streamers fly through the air or simply creating large bubbles. Ice cream, quite naturally, was a favorite "cooling-off" snack.

For more photos from this event, please see our print edition.